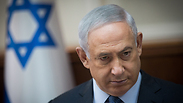 Netanyahu
Photo: Yonatan Zindel, Flash 90
Prime Minister Benjamin Netanyahu barred the Israeli government from commenting on Monday's Kurdish independence referendum in Iraq, two officials said, after his September 13 endorsement of Kurdish statehood irked Turkey.

The plebiscite was held despite objections from the United States and Turkey, a regional power whose ties with Israel have long been troubled. The autonomous Kurdistan Regional Government (KRG) has also voiced misgivings about overt Israeli backing.

Asked to comment on the referendum, one Israeli cabinet minister declined, telling Reuters on condition of anonymity: "Bibi (Netanyahu) asked us not to." A second Israeli official confirmed the order, saying the subject was "too sensitive."

Netanyahu's office did not respond to a request for comment.

Israel has maintained discreet military, intelligence and business ties with Kurds since the 1960s, viewing the minority ethnic group—whose indigenous population is split among Iraq, Turkey, Syria and Iran—as a buffer against shared adversaries. Israel also has a sizeable Kurdish Jewish immigrant community.

Israel has backed Kurdish independence in the past—most recently in the September 13 statement by Netanyahu.

Centrist Israeli lawmaker and Yesh Atid leader Yair Lapid, a former minister in Netanyahu's conservative coalition, tweeted on Monday: "The Jewish people know what it is to struggle for a homeland. The Kurds have a moral right to a state of their own. I wish them luck today."

But Kurdish officials said such rhetoric is unsolicited and damaging. "Our adversaries attack us as a 'second Israel in the region' and this kind of Israeli talk contributes to that," one Kurdish official said.

Turkish President Tayyip Erdogan said on Monday Netanyahu's position on the Kurds affected Ankara's relations with Israel.

Speaking in Istanbul, Erdogan said that while visiting New York for the UN General Assembly he met US Jewish leaders who had quoted Netanyahu as describing Israeli-Turkish ties as "not going well".

"How could that be? There is no one recognizing the KRG (referendum decision) except him. We are in a different position," Erdogan said.