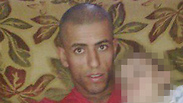 Only minutes before embarking to Har Adar, where he committed a terrorist attack that claimed the lives of three Israelis, Nimer Jamal sent a Facebook message to his wife, asking her to share it on his own profile to "silence (her) conscience."

An initial inquiry into the attack uncovered Jamal suffered from severe personal and family issues, including domestic violence.

He was embroiled in a marital spat with his wife after reportedly physically assaulting her. She fled to Jordan several weeks ago, leaving him with the couple's four children.

Only minutes before the attack, Jamal sent his wife a message on Facebook Messenger, apologizing for what he was about to do.

"Share this message on my profile to silence your conscience. You were a good wife and a merciful mother, whereas I was a poor husband in the way I treated you. I say this with intact faculties: what you see tomorrow has nothing to do with my wife, and I provide her with the fullness of her rights. I beg your forgiveness and ask you to raise our children," he wrote her.

In another Facebook posting, also made just before the attack, Jamal said he "feared no one but Allah."

Jamal arrived at a security checkpoint on the outskirts of Har Adar on Tuesday morning, where two civilian security guards were posted with two Border Policemen stationed several meters behind them. Jamal drew his weapon and started firing, killing one of the Border Policemen and the two security guards. He was struck by fire returned from the officers and was killed.