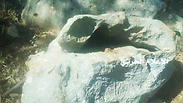 Rock containing espionage equipment
Hezbollah accuses Israel of planting, detonating espionage equipment
Lebanese terror organization's leader Nasrallah claims Israel planted 'booby-trapped cameras' in south Lebanon, which it allegedly detonated when the equipment was found; he then went on to accuse Israel of creating ISIS, initiating the Kurdistan referendum and working to create divisions to destabilize peace in the Middle East to further its goals.
Hezbollah Secretary General Hassan Nasrallah accused Israel on Saturday of planting "booby-trapped cameras" in south Lebanon and then detonating them when the alleged spy equipment was discovered.

In a speech marking the eve of Ashura—a Muslim holiday— Nasrallah said that if these violations were not dealt with politically, the Lebanese organization would have to look for other ways to deal with them.




"We will not remain silent about this," said Nasrallah, who wondered aloud about what would have happened had Hezbollah planted and detonated such a device in Israeli territory.

"The entire world would react and we would be dragged into war, even though this is our natural right," he claimed.

Nasrallah also took the time to accuse Israel of the Kurdistan independence referendum.

"As we put an end to ISIS's plot, which was created by Israel, the region is once again preparing for a new division," he said. "After the failure of Israel's ISIS program, they returned to their plan to divide the region, starting from the Kurdistan-Iraq region."

Nasrallah warned the division would lead to internal wars in the region, and that "only Allah knows how long they will continue."

The secretary-general added that the referendum in the Kurdish region threatens the entire Middle East and the only one in the world that supports it is Israel, comparing its support of the Kurdistan-Iraq region to its support of the rebels in Syria.

In recent years, Hezbollah and the Lebanese army have frequently reported the uncovering of Israeli espionage equipment, particularly in southern Lebanon, but sometimes also in the Beqaa Valley.

In September, the terrorist organization claimed to have located an Israeli spying device that had been placed inside a rock in Kfarchouba, a village in southern Lebanon. Hezbollah's military information page says the device was equipped with a thermal camera, which can take pictures both during the day and at night.

In August, Hezbollah claimed to have uncovered Israeli espionage equipment on a mountain in the Barouk Nature Reserve in the Beqaa valley, overlooking the village of Saghbine. The organization's Al-Manar network claimed Israel detonated the equipment from a distance.