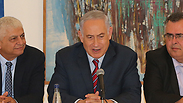 PM Netanyahu
Photo: Amit Shabi
PM pledges 1,200 housing units to Ma'ale Adumim, hints at annexation
Speaking during a Likud faction gathering in the settlement, Netanyahu promises reinvigorating construction and development, pledges Ma'ale Adumim 'will always remain part of Israel'; tells residents he backs incorporating other settlements into Greater Jerusalem bill for planned annexation.
Prime Minister Benjamin Netanyahu pledged Tuesday to build 1,200 new housing units in the West Bank's biggest Jewish settlement of Ma'ale Adumim and incorporate it into a bill which will enable the government to annex it to Israel.

Netanyahu's announcement came during a Likud delegation visit to Ma'ale Adumim, east of Jerusalem, where he promised to "enhanced development" of the settlement.

"I declare an intensification in the momentum of development in Ma'ale Adumim," Netanyahu said. "We will build here thousands of units. We are adding industrial zones and the required expansion to enable accelerated development of this place.

"This place will be part of the State of Israel. I support the Greater Jerusalem bill that will enable Jerusalem and its communities to develop in many different aspects," the prime minister continued. "This is very big and important news."

The bill seeks to annex several local authorities in the West Bank that are attached to Jerusalem with the intention of creating a greater Jerusalem metropolitan area. However, it is important to note that the localities will not be politically annexed.

At the beginning of the Likud faction meeting, Netanyahu celebrated the developments made to the settlement over the last decades.

"Twenty-five years ago, I was here with another young man. We both had black hair and we laid the cornerstones for this building. A museum housing the works of a great artist, Castel, along with his late wife," he began.

"Here you see this big building. This building reflects what we are going to do. We declare reinvigorated construction. We have now added 1,200 housing units in the program and we intend to add more," he added, potentially giving hostage to fortune.

"This expresses our commitment to this community which will always be a part of the State of Israel. I also welcome the idea of examining the possibility of including Ma'ale Adumim, together with other communities as part of the Greater Jerusalem bill," he continued.

"There are questions regarding infrastructure, employment and security. We'll take care of them," he assured his listeners.

AP contributed to this article.