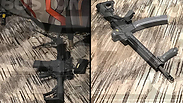 The first pictures of the weapons used by Stephen Paddock in Monday's mass shooting in Las Vegas and a video of the hotel room from which he fired were published on Tuesday.

Paddock, a 64-year-old retired grandfather with no criminal record, smashed two windows in room 135 on the 32nd floor of the Mandalay Bay Hotel in Las Vegas where he had lodged Monday evening.

Through the broken windows of this vast room, he opened fire with an automatic rifle on about 22,000 people who gathered in a nearby park, some 450 meters from his room, to enjoy a country music festival.




From Room 32-135, Paddock caused the worst shooting incident in American history, with at least 59 killed and 527 injured.

Following the shooting, a tourist from North Carolina named Jeff Bridges recognized the room where he and his wife Andrea had spent three days vacationing in Las Vegas last January. He then posted a video he had taken in the room.

"The most amazing thing about this room is the views (sic)," Bridges ironically said in the video, as the camera pans down to show the grounds where Monday's music festival was held.

Jeff Bridges' video tour of room 32-135

"It was eerie," Bridges said speaking to news site the Sun Online, as he recalled realizing that he had stayed in the same room from which Paddock carried out the massacre. "I just got a knot in the pit of my stomach, knowing that I was probably standing in the same spot, taking that video, as that lunatic was when he was shooting out his window."

The Boston 25 News channel posted two pictures showing two of the 23 rifles found in Paddock's hotel room.

As is always the case after a terrible mass-shooting such as this, the American public has delved into a heated debate about the ease with which US citizens can acquire and hold weapons.

House Republican leaders called for unity and prayer Tuesday after the deadly mass shooting in Las Vegas, but offered no new legislation to tighten gun laws and said a bill to ease regulations on gun silencers would be shelved indefinitely.

"We are all reeling from this horror in Las Vegas," Speaker Paul Ryan said at a news conference. "This is just awful."

The Congress, dominated by Republicans, has recently promoted several measures to ease arms restrictions.

Ryan said there's no plan for the House to act soon on a National Rifle Association-backed bill to ease regulations on gun silencers. A House panel had backed the bill last month and lawmakers were expected to move ahead on the measure.

The bill is "not scheduled right now. I don't know when it will be scheduled," Ryan said.

Ryan's comments came as Democrats renewed calls for gun safety legislation.