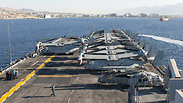 USS America
Photo: U.S Navy photo by Mass Communication Specialist seaman Vance Hand
An American amphibious assault ship docked at the Eilat port on Thursday morning after two months of sailing at sea.

The arrival of the USS America (LHA-6) in the area is part of the US's re-deployment of its military in the region.

It is the first visit by the mammoth helicopter carrier to Israel, the aim of which is to "strengthen relations between Israel and the US, when the two states are working together for the sake of regional stability and security."

During the visit, the sailors and crew members are expected to tour different cultural and heritage sites in Israel.

"We came to work together with our partners, and our strength is the best amphibious task force in the world," said the commander of the15th Marine Expeditionary Unit, Colonel Joseph R. Clearfield.

In addition to helicopters, aboard the ship were a variety military aircraft, including Bell Boeing V-22 Osprey military aircraft, capable of vertical propeller rotation, enabling it to land and take off on the spot without the need for a runway, and can serve as a small aircraft carrier.

Another military aircraft on board was the single-engine ground-attack aircraft AV-8B Harrier, also capable of landing and taking off without a runway.

In July, for the first time in 17 years, the USS George H. W. Bush aircraft carrier anchored off the coast of Israel at Haifa Bay about 4 km from the breakwater of the port of Haifa, being too large to dock at the port itself.