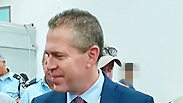 Gilad Erdan
Photo: Avihu Shapira
Israel invests millions in anti-BDS campaign highlighting Jordan Valley produce
In response to international BDS anti-Israel movement, Public Security Min. Gilad Erdan launches special initiative at a cost of NIS 7 million to publicize agricultural Jordan Valley produce around the world, and to showcase cooperation between Israelis and Palestinians.
Minister of Public Security and Strategic Affairs Gilad Erdan launched a joint project with the Jordan Valley Regional Council on Monday, publicizing the agricultural produce of the Jordan Valley farmers at major conferences and fairs around the world, in an attempt to fight back against the efforts of the Boycott, Divestment, Sanctions (BDS) movement.

The project will be implemented over the next two years and will cost the state an estimated NIS 7 million.

In addition, the ministry will fund the arrival of influential delegations to the region so that they can get an impression of the farmers' agricultural produce and of the cooperation between Israelis and Palestinians in the produce's development.

During his visit to the Jordan Valley together with the Yesha Council—an umbrella organization of municipal councils of Jewish settlements in the West Bank—Erdan said that his ministry is trying to help farmers affected by initiatives that mark and confiscate economic products from the Jordan Valley.

Ardan added: "The struggle I am waging against the boycott organizations is preventing severe damage to the state." He stressed that agriculture is "one of the most at risk and important areas to focus on."

David Elhayani, head of the Jordan Valley Regional Council and chairman of the Settlement Forum for Combating the Boycott, said the project would help the farmers of the region.

"Our produce is confiscated in some European and American countries and the damage to farmers is great.

"We are happy to see the change the government's attitude (towards us—ed)," he said. "We finally see them being actively in favor of farmers and victims of boycott organizations".

"In the West Bank, there are 14 industrial zones that employ close to 20,000 residents of the Palestinian Authority," noted outgoing chairman of the Yesha Council, Avi Roeh. "There are those who do not care about them, they are acting to boycott (our produce) because they are interested in the State of Israel ceasing to exist."