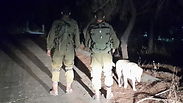 IDF search party
Photo: Roee Idan
The IDF destroyed a Palestinian observation post on Sunday night in retaliation for a rocket launched from the strip earlier in the evening.

As the rocket fell within Gaza, there were no casualties and no damage was done on the Israeli side.

Initially, a Code Red alert was sounded at 8:55pm local time in several towns in the Eshkol Regional Council, East of the strip.

About 20 minutes later, the IDF Spokesperson's Office reported that a launch was detected from the Gaza Strip. It first stated that the projectile fell in an uninhabited open field in the Regional Council, before updating that it had actually fallen in Gaza.

This is the second alarm in two days, after a false alarm was sounded Saturday due to an errant flare fired during a small IDF military exercise.

On Saturday night, Hamas security forces in the Gaza Strip arrested Nur Issa, a senior Islamic State official in Gaza who is, in the eyes of many, the organization's leader in Gaza.

Three other operatives aligned with ISIS were picked up along with Issa.

The arrest took place in an overnight raid on a house in Rafah, where the four were gathered.

Their arrest was carried out prior to the departure of a Hamas delegation to Cairo tomorrow for the continuation of the reconciliation talks with Fatah, the party heading the Palestinian authority which controls the West Bank.

It is quite possible that this launch was made by ISIS operatives in retaliation to those arrests, in order to lead Israel to attack Hamas targets in response.
'Palestinian reconciliation will pave the way for peace'
Meanwhile, Egyptian President Abdel Fattah el-Sisi ordered the Egyptian government to continue its efforts to "help our Palestinian brothers begin a new era of unity between their two rival sides in order to begin the establishment of a just peace between the Palestinian and Israeli sides and the founding of an Independent Palestinian state in a way that meets the legitimate aspirations of the Palestinian people to live a secure, stable and flourishing life."

This is a continuation of el-Sisi's statement from last week, when he said during a meeting between Egyptian Intelligence Chief Khaled Fawzy and Palestinian Prime Minister Rami Hamdallah that "History will pay its debt to anyone who misses the opportunity for peace."

Yoav Zitun, Matan Tzuri, Elior Levy and Roi Kais contributed to this report.