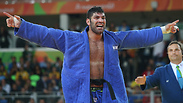 Ori Sasson
Photo: Oren Aharoni
Three Israeli Judokas take the gold
Israeli Judokas strike gold, as three win first place in their respective weight division at the International Judo Federation's 2017 Grand Prix held in Tashkent, Uzbekistan; the competitors are heavyweight Or (Ori) Sasson, lightweight Sagi Muki and half-lightweight Betina Temelkova.
Three judokas; heavyweight Or (Ori) Sasson, lightweight Sagi Muki and half-lightweight Betina Temelkova, all won first place at the Tashkent Judo Grand Prix 2017, taking place in Uzbekistan.

This places Israel at the top of the tournament bracket, with two more golden medals than any other country.


Sasson, 27, returned to the mat after a break of a year and two months, winning in the +100 kg (+220 pounds) category on Sunday after beating Iurii Krakovetskii from Kyrgyzstan, who finished third in the Asian Championship this year.

This is Sasson's first competition since he won the bronze medal at the Olympic Games in Rio a year ago.

"Ori underwent a long period of rehabilitation and as part of the regiment I built for him I let him rest and recover from the competition in Rio," said the men's team coach and Olympic bronze medalist Oren Smadja. "Today I know that this decision led Sagi Muki and Ori Sasson to stay in the game and continue for another Olympic term."

Muki, 25, snagged first place in the 73–81 kg (161–179 pounds) category on Saturday after a victory over Mongolian opponent Dagvasuren Nyamsuren, two and half minutes into golden score—a sudden-death tiebreaker.

"Sagi is a true champion, a unique fighter and I am proud of him for everything he overcame despite the many difficulties," said Smadja, who noted that Muki has yet to show even "half of his potential."

Representing Israel, young Bulgarian judoka Temelkova, 20, took first place on Friday after scoring an Ippon—the equivalent of a knockout—against Polish Judoka Agata Perenc.

This is Temelkova's first medal in the senior championships. Since she began representing Israel, Temelkova has brought quite a few achievements, including a silver medal in the European Junior Championship last month.

It is worth stating that despite her proven skill as an athlete, Temelkova's visa to Israel, which has slready been extended by two months, is due to expire at the end of the month.

Should the Interior Ministry decide against granting her a passport and later citizenship, she will be expelled from Israel.

Culture and Sports Minister Miri Regev has already asked Interior Minister Aryeh Deri to grant the judoka citizenship.

"I will continue my efforts until she receives Israeli citizenship, so that she can continue to represent us with honor in the European Championship next year in Israel," promised Regev.

Aside from the three, female judokas Timna Nelson Levy and Yarden Mayersohn won a second and third place respectively, granting Israel silver and bronze medals.