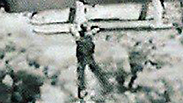 The photo of Aviram's rescue
Lt. Col. (res) Yishai Aviram, the fighter pilot who sat in the Phantom cockpit with IAF navigator Ron Arad, who fell captive 31 years ago, flew his last commercial flight earlier in the week, with Israeli airline El Al.

As is tradition, upon his final landing, the Boeing 737 Aviram had flown was hosed down by fire trucks at Frankfurt Airport.

Aviram will continue to work in El Al as a flight instructor.

Aviram's plane is hosed down following his final flight

Now over 65, Aviram served as a fighter pilot in the Israeli Air Force for many years. He was flying an IAF Phantom Jet in '86 over Lebanon, together with navigator Ron Arad, when the two had to abandon the aircraft after it was hit by enemy fire.




"I was sure I had died. I heard a great 'boom,' and then I couldn't see anything," he recounted in the book G-Suit, by Merav Haleperin and Aharon Lapidot. "I felt like I was breaking apart and evaporating. I wasn't scared. Something or someone was pulling me, and to my surprise I saw that I was hanging from a parachute."

Aviram continued by saying that he later fell into a ravine, where he hid among berry bushes until he was rescued.

"The terrorists saw where I fell and began coming down from all directions," he said. "They started shooting at the bushes where I was hiding and kept getting closer. Eventually they were less than a hundred meters away."




However, an IDF rescue team managed to scare off the terrorists, and a Copra helicopter managed to enter the ravine and rescue Aviram. A photo of the rescue mission, which captured Aviram hanging onto the helicopter's skis after flying this way above Lebanese villages back to Israel, became one of the most iconic images in IDF history.




Arad, sadly, was not so lucky: after being captured, he was captured by the Shi'ite Amal Movement and kept in captivity for years. He is believed to have died while in captivity, though circumstances surrounding his death remain a mystery: in '05, the Israeli intelligence community was able to obtain information considered to be "of the highest levels of certainty" that the captured navigator Arad had died in Lebanon, likely from an illness, between '95 and '97.

Much recently, however, a Lebanese man accused of collaborating with Israel told a military court Arad died in that country in '88 after enduring beatings and torture. The new, contradictory from '16 claims that Arad had died in Lebanon in '88 after enduring beatings and torture.

It has also previously been claimed that Arad was murdered by his captors on May 3, '88, during an Israeli paratrooper operation targeting Hezbollah in the town of Maydun, or that he had been murdered when he tried to escape.