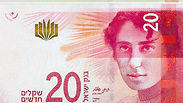 The new NIS 20 bill carrying the likeness of Rachel the Poetess
Shekel bills depicting poetesses to enter circulation
New bills bearing likeness of Leah Goldberg on NIS 100 bill and Rachel the Poetess on NIS 20 bill to enter circulation after adjustment and calibration period for banks, businesses concludes; experts say bills would likely be last issued by government before total switch to digital currencies, credit cards.
Two new shekel bills in the Bank of Israel's poets' series will be entering circulation in the coming weeks, depicting poetesses Rachel (Bluwstein) and Leah Goldberg.

The new bills will be in denominations of NIS 20 (Rachel) and NIS 100 (Goldberg), joining the two bills from the series already on the market: a NIS 50 bill issued in September 2014 featuring Shaul Tchernichovsky and an NIS 200 bill issued in December 2015 featuring Nathan Alterman.

In preparations for launching the two new bills, mock-ups were shipped out to all banks as well as manufacturers, suppliers and operators of candy, beverage, movie ticket and parking vending machines so they can calibrate their equipment to use these new bills.

The calibration process has concluded in almost all institutions and businesses, it was reported. Nevertheless, in the near future machines will continue accepting bills from the old series—still in circulation in the market.

The new NIS 20 bill will be red, whereas its NIS 100 compatriot will be orange. They will be different in length and include a series of safety measures woven into their very paper, making them harder to forge.

For instance, the bills will include a water mark of the figure and its denomination, a color-changing safety strip with three windows also containing the figure and denomination, prominent ink on both sides of the bill, minute holes in the shape of the denomination, minute text, a special sticker, color-changing ink, transparent ink, markings for the blind and other measures.

The Bank of Israel has invited the public to examine the new bills and their varied safety features on the Bank's website and mobile app.

Economic officials have estimated this would be the last series of paper bills issued in Israel, as paper money is only changed once every few decades, as has been the case in this instance, and in 10-20 years payments are more likely to be made using smart phones, computers and credit cards, all but nullifying the need for cash.