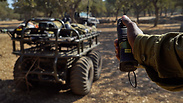 IDF remote-controlled vehicles
Photo: IDF Spokesperson's Unit
IDF's newest technology in fight against Hezbollah
The future of combat is now: last month's large-scale military exercise in northern Israel included IDF forces setting up an underground field hospital, remote-controlled trucks, smart parachutes, hovercrafts to evacuate the wounded and robots carrying equipment alongside troops; this is what the next war will look like.
The large-scale Northern Corps exercise last month allowed the IDF's Technological and Logistics Directorate to carry out a trial by (pretend) fire for a number of new weapons it was looking to try out.

These included unmanned ammunition and equipment trucks, a hovercraft used to carry the wounded, an underground hospital and a parachute with a GPS device that can land dozens of kilograms of equipment in enemy territory with almost laser precision.

The recently unveiled equipment is leaps and bounds from that used in past conflicts. During the 2006 Second Lebanon War, for instance, the IDF used much simpler parachutes, with many of their crates eventually landing in Hezbollah hands. Though the new parachutes have not yet been declared operational, hundreds of them are expected to be purchased as part of the IDF's multi-year acquisition plan.

IDF forces prepare for war in large-scale exercise (צילום: דובר צה"ל)

Several hovercraft demonstrations were also carried out during the exercise, showcasing their ability to, among other things, safely and efficiently carry hundreds of kilograms of equipment, ammunition, water and fuel. A more unusual demonstration included using a hovercraft to carry a simulated "wounded individual." This was done by laying out a dummy on a stretcher, which was then flown for five minutes at a height of 40 meters.

The initial impression of the Medical Corps was positive. "The demonstration was well-executed, and it's not far from the day when this hovercraft becomes operational," a senior medical officer told Ynet. "We fitted the dummy with a monitor, which enabled us to monitor its condition while it was in the air and we were on the ground."




The exercise also included a convoy of unmanned transport vehicles, which were controlled by remote technology operated by a soldier in the only manned vehicle on site. Each of the trucks in the convoy was able to carry eight tons of logistics supplies.

"It worked very well," explained a senior IDF officer. "Since drivers aren't skilled at fighting, we wanted to prevent risking our men during the next war."

Pro-robots (or unmanned vehicles) were also utilized to carry combat equipment alongside infantry forces, with up to 500 kg per pro-robot. "They've proven to be highly successful in working in rocky terrain, quietly and effectively," added the officer. "We'll know how to keep our maintenance units from the border; we will operate in a mobile—as opposed to stationary—manner, because of the mortar shells of Hezbollah's Buraq unit and its elite Radwan unit."

As part of its emergency preparedness, an IDF field hospital was deployed in the parking lot of a Nahariya shopping mall during the exercise. It was set up in the underground lot to simulate a situation in which the area is hit by Hezbollah rockets. It included a large number of medical reserve personnel (comprised, among others, of 200 physicians) under the command of Shaare Zedek Medical Center Trauma Room director Col. (Res.) Dr. Ofer Marin.

During the exercise, the hospital "treated" some 200 mock casualties, some of whom were evacuated using the Air Force's helicopter fleet and Hercules aircrafts. The hospital included emergency and trauma rooms, four operating beds, ten intensive care beds, x-ray and laboratory facilities, hospitalization rooms and even a pediatric ward. All in all, the compound is capable of treating 200 wounded a day, while around 100 of them are hospitalized.

The IDF field hospital was declared to be the world's best by the World Health Organization. Despite it never being used during wartime, it has taken part in disaster relief missions in Haiti, the Philippines and Nepal. Up until two years ago, it also operated in partial capacity along the Golan Heights border, where it assisted in caring for wounded Syrian refugees.