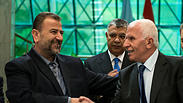 Hamas and Fatah sign a reconciliation agreement
Photo: EPA
Fatah has reportedly demanded Hamas to stop efforts to launch terror attacks against Israel from the West Bank as part of their reconciliation agreement, a Palestinian source told Ynet on Sunday.
Hamas, meanwhile, has set a condition of its own, demanding the Palestinian Authority stopped its arrests of Hamas members in the West Bank, the source said.
In another report that seems to support this thesis, Hamas sources told pan-Arab newspaper Asharq Al-Awsat on Sunday that one of the conditions of the agreement is that Fatah and Hamas will make decisions on important issues together, such as signing a peace agreement or launching a war against Israel.
Hamas deputy leader Saleh al-Arouri, who is in charge of terror attacks in the West Bank, signed the reconciliation agreement on behalf of the group, giving further credence to Hamas's commitment to stick to the terms of the agreement.
As part of the agreement, which was signed on Thursday, civil control of the Gaza Strip—including control of its border crosses—will be transferred to the Palestinian unity government on December 1, 2017 after 10 years of exclusive Hamas rule in the enclave.
Israel criticized the reconciliation agreement, saying "Any reconciliation between the Palestinian Authority (PA) and Hamas must include honoring international agreements and the Quartet conditions, first and foremost among them recognizing Israel and disarming Hamas."
Israel set a series of additional conditions that must be met before it would recognize the agreement, including a halt in the digging of tunnels and manufacturing of missiles, an end to terror attacks against Israel, the immediate release of Israeli citizens Avera Mengistu and Hisham a-Said and the return of the remains of fallen IDF soldiers Oron Shaul and Hadar Goldin.