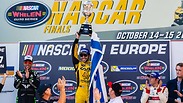 Alon Day won his first NASCAR European title
Photo: Stephane Asemard
Israeli race car driver Alon Day was officially crowned the 2017 champion of NASCAR's European circuit, the Whelen Euro Series, when he crossed the finish line fourth in the series' final race Sunday.

In fact, Day, 26, needed only to start the race—held in Belgium's Zolder course—to secure a championship win after beating local hero Marc Goossens in a hard-fought battle Saturday and accruing 55 points in the championship table up to that point.

Unlike his usual driving style, Day adopted a more reserved, cautious and defensive approach in the season's final race, miles apart from the hard-nosed technique he became known for in the rough and tumble, accident-laden racing league. With his win secure, for Day, the only goal was to make it past the finish line in one piece.

Day dropped to second place immediately after the race was started, later allowing two more drivers to overtake him after an error taking one of the track's turns, but held on to fourth place until the final lap.

"Technically I only really needed to complete one lap. I knew winning the championship was a lock and the driver who started next to me had nothing to lose, and would do anything to beat me on his home turf," Day said at the race's conclusion. "I didn't have to win, but did want to avoid any situations where I or somebody else might get hurt."

Day has been racing under Italian group's CAAL Racing for the third consecutive year, and it's the group's inaugural championship title as well.

"I haven't quite come to grips with it yet. The entire team's ecstatic and you can't beat this feeling. This is a real notch in my belt and, truth be told, I still don't know where I'll be driving next year. We'll see what doors this opens for me," Day said immediately upon exiting his stock car.

Day's racing career had a humble beginning with Israeli go-kart racing, after he received a driving instruction course on the small, basic vehicles as a present for his 10th birthday. Later on he began racing abroad and in 2009, at only 17, won the Asian Formula Renault Series, also competing in Germany's prestigious FIA GT Championship.

Day was also Israel's first race car driver to join the IDF as an "outstanding athlete," which enabled him to continue to compete and train abroad on occasion. This past June he also became the first Israeli driver to compete in the American NASCAR league, as part of the Monster Energy Cup Series.