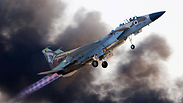 IAF F-15 plane (file photo)
Photo: EPA
Neutralizing Syrian battery draws a new Israeli red line
Analysis: Syria's improved SA-5 anti-aircraft missiles can threaten both Israeli military jets and passenger planes flying in Israel's airspace. With Assad using the missiles against Israel for the second time this year, the IDF felt it needed to send a message of deterrence.
Israel drew a new red line on Monday for the countries and different militant groups operating against it in the region. The neutralizing of one of the Syrian army's SA-5 batteries sends a new message: Any attack on Israeli aircraft, even outside of Israel's airspace—mostly over Lebanese territory—will be considered an attack on Israel and will therefore be met with military retaliation.

The demonstration of this new red line is of great importance, since both manned and unmanned Israel Air Force (IAF) aircraft regularly fly over Lebanon to monitor Hezbollah's armament, equipment acquisition and entrenchment. When the Syrians fire at IAF aircraft in Lebanese airspace, it hurts Israel's defensive intelligence gathering abilities.

It is true that at times—according to foreign sources and claims by the Syrian regime—IAF fighter jets launch precision-guided munitions at targets inside Syria, mostly Iranian efforts to transfer accurate missiles and anti-aircraft missiles to Hezbollah through Syrian territory.

According to those sources, the planes that carry out the operations against Hezbollah's armament fly through Lebanese airspace and do not enter Syrian territory, mostly to avoid clashes with aerial forces and the surface-to-air missiles Russia has stationed in Syria.

The targeting of F-16 jets, which were conducting a reconnaissance mission over Lebanon, was an attempt by the Syrians to limit Israel's freedom of aerial operations over Lebanon as well. Israel considers this to be direct aggression, which should be met with a response.

There are two things—technical in nature—that should be noted here: Primarily, the SA-5 anti-aircraft missiles are not a new weapon in the region. The Syrians used them against IDF aircraft as far back as 1982, during the first Lebanon War. However, these missiles have a long range and can reach high altitudes, and they are able to hit Israeli aircraft either in Israel territory—mostly in northern and central Israel—or near it.
Battery can resume operations within hours
These missiles pose a threat to both passenger planes and fighter jets, so when Syria used them for the second time in as many months, it set off alarm bells for the IAF in particular, and the Israeli defense establishment in general.

If Syria continues making use of these missiles, Israel would have to use protective measures even on commercial planes making their way in or out of the country. That is why the IDF was quick to respond to the Syrian fire on Monday morning by incapacitating the SA-5 battery.

However, the neutralized battery could resume full operations within mere hours, because only one of its components was hit—its fire-control radar. This component can be easily and quickly replaced, with the battery then once again posing a threat to Israeli airspace.

The technical makeup of the Syrian SA-5 batteries, including an improved model of the missiles themselves, require a different approach to this anti-aircraft measure than other surface-to-air missiles the Syrians have, which have much smaller ranges and could reach much lower altitudes. Only the S-400, brought by the Russians to Syria, could compare in its range, altitude capability and interception capability to the SA-5 and particularly to the improved SA-5 the Syrians have.

It's also worth noting that Israel was quick to update the Russians about the counter-attack and targeted only one component of the battery. This is meant to send out a clear message that Israel does not seek escalation that might lead to a full-blown conflict. Rather, this is an isolated action taken to deter the Syrians from using the SA-5 again in the future.