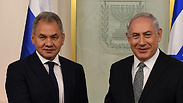 Sergey Shoygu and Netanyahu
Photo: Haim Zach/GPO
PM to Russian def. minister: We won't allow Iran into Syria
As Sergey Shoygu visits Jerusalem to discuss security coordination in Syria, Netanyahu warns an unchanged Iranian nuclear deal will result in nuclear arsenal in Tehran within 8-10 years; says 'Iran has to understand that Israel will not allow' military entrenchment in Syria.
Prime Minister Benjamin Netanyahu told Russia's Minister of Defense Sergey Shoygu Tuesday that Israel will not allow Iran to entrench its military forces in Syria.

"Iran has to understand that Israel will not allow this," Netanyahu said during the meeting in Jerusalem, which was also attended by Defense Minister Avigdor Lieberman.

ussia's Minister of Defense Sergey Shoygu arrives in Israel (צילום: מוטי קמחי, עדן מולדבסקי ודנה שרגא, משרד הביטחון)

Also during the meeting, Lieberman and Netanyahu also discussed the Iran nuclear deal which president Donald Trump refused to recertify last week.

Netanyahu warned the Russian defense minister that unless the deal is altered, Iran will be able to build up a stockpile of nuclear weapons within 8-10 years.

Prior to the meeting, Shoygu, as part of his two-day trip, was escorted by Lieberman around the Yad Vashem Holocaust Memorial Museum.

Shoygu arrived in Israel on Monday evening to kick off what is the visit in years by a Russian official in his position to Israel.

His landing came against a background of an attack by the Israel Air Force on a Syrian aerial defense battery on Monday morning, which earlier launched a surface-to-air missile towards IAF planes

"This is his first visit, and as his first visit as defense minister, it is of extraordinary importance," Lieberman said on Monday.

"We greatly appreciate our relationship with Russia, especially the openness and frankness. We don't always agree but we always speak frankly and openly. We believe that the moment there is open and frank dialogue, any problems can be overcome."

A day after Shoygu concludes his visit, Lieberman will take off for Washington to meet with US Defense Secretary James Mattis, with Iran occupying the bulk of their focus and Trump's announcement of a new policy review of the US's approach to the Iranians and the situation in Syria.