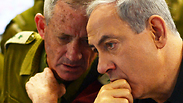 Benny Gantz and PM Netanyahu
Photo: Kobi Gideon, GPO
Gantz on list of guests in PM residence meals affair
Draft indictment involving embezzlement of state funds to host parties and meals cooked by private chefs lists names of prominent businessmen who were hosted and allegedly treated to extravagant meals, including Arnon Milchan; former IDF chief also appears on list.
A draft indictment, that was until recently expected to be served to Prime Minister Benjamin Netanyahu's wife, Sara Netanyahu, features a list of prominent businessmen and military officials, including former IDF chief of staff Benny Gantz and Israeli tycoon Arnon Milchan, who were hosted at the Prime Minister's Official Residence and treated to private chef meals for thousands of shekels in taxpayers' money.

Milchan, who was recently questioned under caution in London on suspicion of giving bribes to Prime Minister Netanyahu and his wife Sara, was not the only Israeli magnate to appear on the list, according to a report on Thursday on Channel 10 News.

Shaul Elovitch, who owns one of the largest private holding groups in Israel, was also hosted at the residence.

Yitzhak Tshuva, one of Israel's wealthiest businessmen, also enjoyed extravagant meals by private chefs. Motti Zisser and Lev Avnerovich Leviev also appear on draft indictment, which now targets Deputy Director-General of the Prime Minister's Office Ezra Saidoff for the embezzlement of state funds for private parties and dinners.

In at least 15 cases, the indictment said, the so-called absence of a cook was used to have chefs brought into the residence to cook meals for the Netanyahu family and their private guests, with outside food expenses reaching upwards of NIS 24,000 in December of 2011.

However, after examining the matter, Attorney General Avichai Mandelblit said there was insufficient evidence to prove that Mrs. Netanyahu was aware of the systematic scam and he therefore ordered that the investigation against her be duly closed. Saidoff however, is expected to stand trial for his role in scheme.

"Mr. Saidoff instructed Mr. Netanyahu's caretakers and secretaries to forge invoices for the meals so that the costs would be split into a large, fake number of meals rather than the number actually supplied," Mandelblit said. Sometimes the invoices would be 'spread' over several days."

In 2011, Lev Leviev and his wife, along with their son and his wife, were hosted at the residence and were cooked up a meal by chef Shalom Kodesh to the tune of NIS 4,500 in taxpayers' money.

Leviev and his wife were hosted again one year later, this time without the son and daughter-in-law, where they enjoyed a meal cooked by the same chef for NIS 2,964.

In April 2011, Yitzhak Tshuva and his wife were hosted at the residence and were served dishes by another top chef for the cost of NIS 2,088.

Prime Minister Netanyahu issued a statement denying any wrongdoing on the part of his wife, insisting that hosting dignitaries at the Prime Minister's Residence was a common practice both in Israel and abroad.

"In the Prime Minister's Official Residence, security personnel, economists, academics, religious officials and others are frequently hosted who represent many areas, as was customary and acceptable for other prime ministers and other heads of state in the world," said the prime minister.