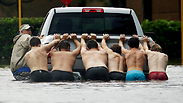 Texas after Hurricane Harvey
Photo: AP
Texas city requires no Israel boycott for hurricane relief
A public Hurricane Harvey relief fund in Texas city conditions receipt of funds on not boycotting Israel during agreement's term; agreement is 'egregious violation of First Amendment, reminiscent of McCarthy-era loyalty oaths,' says local ACLU chapter.
The residents of Dickinson, a town in the greater Houston area, would not be eligible for any funds from a Hurricane Harvey repair grant program if they boycotted Israel, a move the American Civil Liberties Union (ACLU) called unconstitutional on Friday.

Dickinson was one of the areas hardest hit by Harvey's torrential rainfall in late August. More than 7,300 homes in the city were damaged, displacing about 7,900 residents.

Requests for assistance started pouring in from Dickinson residents last week, for anything from personal financial assistance to struggling families to helping business hit by the hurricane to recover. Most of the money for the recovery was donated by the Dickinson Harvey Relief Fund, operated by the town's municipality.

However, terms for the relief funds carried a condition: a section in which individuals have to acknowledge they "will not boycott Israel during the term of this agreement."

"Dickinson's requirement is an egregious violation of the First Amendment, reminiscent of McCarthy-era loyalty oaths requiring Americans to disavow membership in the Communist party and other forms of 'subversive' activity," said ACLU of Texas Legal Director Andre Segura.

"The First Amendment protects Americans' right to boycott, and the government cannot condition hurricane relief or any other public benefit on a commitment to refrain from protected political expression," he added.

The boycott language was included to comply with a new state law prohibiting Texas agencies from contracting with companies boycotting Israel, said David Olson, the city attorney in Dickinson, located about 30 miles southeast of Houston.

The law, which took effect Sept. 1, prohibits all state agencies from contracting with, and some public funds from investing in, companies that boycott Israel.

Texas Governor Greg Abbott visited Israel almost two years ago and met with Prime Minister Benjamin Netanyahu. When he signed an anti-BDS bill this past May, Abbott said, "Anti-Israel policies are anti-Texas policies."

Twenty-one states, including Texas, have passed laws that prohibit them from entering into contracts with individuals or companies participating in a boycott of Israel. Earlier this month, the ACLU filed a federal lawsuit in Kansas on behalf of a teacher challenging that state's boycott law.