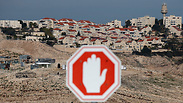 130 Israeli companies, 60 int'l corporations on UN 'blacklist'
UN High Commissioner for Human Rights al-Hussein warns Israeli firms of their inclusion in 'blacklist' of companies operating in West Bank, east J'lem, Jordan Valley; list includes prominent companies such as Bezeq, Hot, Ahava, Cellcom, Bank Hapoalim and others; Bezeq CEO scorns 'entirely anti-Israeli propaganda.'
In the past few weeks, 130 Israeli companies and 60 international corporations operating in Israel received warning letters from United Nations High Commissioner for Human Rights Zeid bin Ra'ad al-Hussein cautioning them of their impending inclusion in a "blacklist" of companies active beyond the Green Line in "violation of international law and UN resolutions."

Ynet has gained access to part of the list, which is set to be published in late December and cites 25 well-known Israeli companies. The companies operate in different sectors—some in food manufacturing, others in services, pharmaceuticals and even high-tech—but have one thing in common: they all operate in settlements, east Jerusalem and the Jordan Valley.

Among the companies in the commissioner's sights are Ahava, Dor Alon, Amisragas, Angel Bakeries, Arison Investments, Ashdar, Clal Industries, Café Café, Cellcom, Danya Cebus, Electra, HP, Hot, the Israel Aerospace Industries, Matrix Systems, Motorola, Nesher, Partner, Paz, Rami Levy, Remax, Housing & Construction (Shikun Binui), Shufersal, Sonol and Trima.

The above companies are joined by the 12 companies already published on Channel 2 News including Bank Hapoalim, Bank Leumi, Bezeq and Bezeq International, Coca Cola, Africa Israel, Teva, IDB, Egged, Mekorot, Netafim and Elbit Systems.

The "Washington Post" published American companies will also be appearing on the list, including Caterpillar, Tripadvisor and Airbnb.

Some of the companies to be included on the list are still considering their response, but others are already fighting back with the claim their inclusion on the list may cause them financial harm and tarnish their brand, and are therefore looking into filing suits against the Commissioner and the UN's Human Rights Council that called for the list's preparation in the first place.

The companies claim the list's creation was politically motivated and point to the fact that the commissioner constructed no such lists pertaining to other regions of conflict—such as the Crimean Peninsula and Western Sahara—as proof.

Both Israel and the US have been working behind the scenes in the past few weeks to prevent the list's publication, but it appears it may be presented with a fait accompli. Despite the fact the list carries no operational or legal ramifications, the symbolic move nevertheless caused concern among the Ministry of Foreign Affairs officials due to the fact it may provide a serious boost to BDS efforts, deter foreign investors and convince foreign companies operating in Israel to reduce their operations.

"It may cause large investment firms or pension funds carrying stocks of various Israeli companies to divest in them because they, in turn, operate in the settlements. It may lead to a snowball effect that will greatly harm the Israeli economy eventually," said a senior Israeli official.

The Ministry of Foreign Affairs estimates the Human Rights Commissioner received most of his information about the Israeli firms from Israeli non-profits operating in the settlements and investigating business activities beyond the Green Line.
AIPAC goes to war
In an effort to scuttle the move, the pro-Israel American Israel Public Affairs Committee (AIPAC) lobby has been working in the US on promoting rapid legislation in Congress determining any company divesting its business dealings from Israel will be considered to have "capitulated" to the Arab boycott, and would thus be in violation of American law.

The Human Rights Council's efforts to isolate Israel—executed through the office of the commissioner—have largely been facilitated by what Israel frequently slams as the UN body's years-long anti-Israeli majority which has a long record of a bias slant.

Bezeq CEO Stella Handler published a Facebook post 12 days ago in which she made public the overture she received from the UN's Human Rights Commissioner. After the Ministry of Foreign Affairs contacted her, Handler took the post down.

"Here's something the UN's Human Rights Council doesn't want you know: we've received a message from Special Assistant to UN High Commissioner for Human Rights Mohammad Ali Alnsour. Alnsour communicated to us that Bezeq was to be included on a list of Israeli companies operating in the West Bank. He asked us to keep that information confidential and to not publically comment on it," Handler's Facebook post said.

"Before we get started, here's some background about the UN's Human Rights Council. Since it was founded in 2006, it published 68 decisions denouncing Israel, making up 50 percent of the total resolutions pertaining to specific countries the council has made. Not North Korea, not Syria, not Sudan and not Yemen were afforded such attention," the post continued.

"We will not be cooperating with a move that's entirely anti-Israeli propaganda. Despite the council's attempts to harm Israel by harming Bezeq, we give you our solemn commitment to keep focused on what we do best: providing all of Israel's citizens with quality service, to provide our employees with a fair workplace and to manufacture profits for our shareholders. That is our role as Israel's communications infrastructures company," Handler concluded.