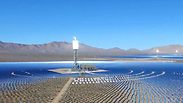 NEOM will be powered by solar energy
Planned bridge to connect Saudi Arabia with Egypt
After relinquishing control of 2 islands in Straits of Tiran to Saudi Arabia, Egypt agrees to plan bridge spanning straits that connects Egypt with Saudi kingdom; for project to go forward, Israel would have to cooperate with Saudi Arabia, with which it has no official relations.
Saudi Crown Prince Mohammad Bin Salman announced Tuesday his intention to create a new high-tech mega city in western Saudi Arabia, called NEOM, for a cost of $500 billion. According to the plans, the Saudi kingdom intends to erect a bridge passing over the Red Sea and linking NEOM to Egypt, reported American news site Bloomberg, a project Israel may have to assent to for it to go forward.

The 1979 peace accords between Israel and Egypt enshrine Israel's free passage through the Straits of Tiran in the Red Sea, over which the bridge is planned to pass. Israel's involvement in the project is therefore essential, said Prof. Yoram Meital, Chairperson of Ben Gurion University's Chaim Herzog Center for Middle East Studies and Diplomacy.

A simulation of the bridge's building

"My supposition, with others concurring, is that the bridge's erection will be built is germane to Israel's interests. While the reasons are primarily legal, they are more than that. All of the Israeli-Chinese trade passes through that route. Once you build a bridge controlled by the Saudis over it, are those Israeli vessels passing under Saudi sovereignty? That's not so trivial," Prof. Meital added.

"Israel does not conduct official relations with Saudi Arabia. Israeli planes don't fly over Saudi airspace and Israeli vessels don't sail through Saudi waterways. That means that a project of this magnitude and sensitive aspects couldn't possibly be carried out with, at the very least, coordination between the sides: Israel, Saudi Arabia and Egypt," said Meital.

"The fact the assumed coordination has to be performed covertly in back-channels is what makes it so interesting. All parties involved consider building the bridge something to strengthen their dialogue. The Saudis, Israelis and Egyptians have one other thing in common: they're the United States' greatest allies in the Middle East," he elucidated.

"The question of the bridge passing over the straits, therefore, can helps broach any number of other issues, including a joint stance against ever growing Iranian involvement, mostly in Syria," Meital concluded.

Bloomberg reported Prime Minister Benjamin Netanyahu's office had no comment on the matter. Netanyahu has, however, been quoted as saying in that ties between Israel and moderate Sunni Arab states has never been better.

"The two islands in the Straits of Tiran, transferred by Egyptian President (Abdel Fattah) el-Sisi to Saudi ownership, are in one of the Red Sea's narrowest passageways. They have been under Egyptian control since the 50s. These islands were at the heart of the conflict culminating in the Six Day War. 50 years ago, Egypt announced it was closing the Red Sea to Israeli ships. Now, 50 years later, the islands have become a sort of bridge towards peace," continued Meital.

The creation of the bridge, set to span 10 kilometers and allow passage for both cars and a train, was made possible after Egypt transferred ownership of the Sanafir and Tiran islands of the Red Sea to Saudi Arabia.

The bridge, much ballyhooed in the past, now returned to world headlines following Prince bin Salman's announcement f the impending construction of NEOM.

"This is a project administered by Mohammad bin Salman, the strongest man in Saudi Arabia. He's spearheading a plan that's looking many, many years ahead into the future. It contains economic development that goes beyond merely oil. It's a 500 billion dollar investment, and only a country like Saudi Arabia can afford it," explained Meital.

The Saudi kingdom and Egypt announced the building of a bridge to connect them two years ago. The agreement was announced by Saudi King Salman after meeting President el-Sisi in Cairo.

The bridge received widespread coverage in Egyptian media outlets then. The Al-Wafd newspaper wrote the bridge was to be named after King Salman and christened it a "new vein of life for Egypt and a mortal blow to Israel."

Egyptian journalist Lamis Elhadidy, meanwhile, said on her television show the Egyptian-Saudi Causeway will "reconnect what Israel has severed."