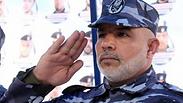 Commander of Hamas's internal security forces in Gaza, Tawfiq Abu Naim was lightly wounded Friday afternoon in what appeared to be an assassination attempt.

Abu Naim was lightly wounded after an explosive device planted on his car detonated as he left Friday prayers in a mosque in Nuseirat Camp.

After sustaining his injuries, he was evacuated to Al-Shifa Hospital in Gaza. A few other men were also injured in the incident.

In a Hamas statement issued after the shooting, "enemies of the Palestinian nation" were blamed

"The attempted assassination is a cowardly act of the enemies of the Palestinian nation and national enemies," the statement read.

"This is an assault on Gaza's security, its stability and the unity of the nation and the national reconciliation," it continued. "The security apparatus and the Interior Ministry must pursue these criminals, trap them and put them on trial. They must use an iron fist against anyone who plans to harm the security of our people and our stability."

Similarly, Fatah also condemned the attack, describing it as an attempt to undermine the recent reconciliation deal between the PA and Hamas.

Naim is responsible for Hamas's Palestinian security in Gaza, the police and all other official clandestine security bodies concerned with the enclaves internal security.

He is considered to be extremely close with the terror movements leadership, headed by Ismail Haniyeh and Yahya Sinwar.

Recently, he worked on building and completing the buffer zone between the Gaza Strip and Egypt as part of Hamas's efforts to prove to Cairo that it was doing all within its power to cut ISIS militants off who making their way to the Sinai Peninsula via the strip.

In addition, Naim led efforts against Salafi terrorism in Gaza and against individual and groups affiliated with ISIS. Less than a month ago, his forces tacked down and arrested the strip's ISIS leader, Nur Ussa,

Three other operatives aligned with ISIS were picked up along with Issa.

The incident comes seven months after assailants gunned down Hamas operative Mazan Fukha outside his home in Tel al-Hawa, in the Gaza Strip.

According to Hamas's military wing, Fukha, who was released in a prisoner exchange deal for captured IDF soldier Gilad Shalit, was shot in the head four times with a silenced weapon by unknown attackers who fled the scene.