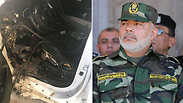 Hamas leader blames Israel for assassination attempt on security commander
While Gaza sources say ISIS attempted to assassinate Hamas's internal security forces commander, Tawfiq Abu Naim, as revenge for arresting ISIS militants and supporters, it didn't stop Hamas leader Ismail Haniyeh from accusing Israel of the botched hit, claiming it did so in an attempt to sabotage their reconciliation with Fatah.
Hamas leader Ismail Haniyeh blamed Israel for the assassination attempt that took place earlier Friday against the commander of Hamas's internal security forces in Gaza, Tawfiq Abu Naim.

"Through these crimes, Israel is trying to dissuade Hamas from its ways and its adherence to the rights and struggle of the Palestinian people," Haniyeh said while visiting Abu Naim at the Al-Shifa Hospital in Gaza.

Meanwhile, sources in the Gaza Strip contradicted Haniyeh, saying the main assessment in the strip is that the Islamic State is responsible for the attack.

According to sources in Gaza, ISIS wanted revenge on Hamas, and on Abu Naim in particular, over a wave of arrests of ISIS affiliated militants directed by the Gaza terror group and led by the internal security commander.

However, at least on the declarative level, other Hamas officials also said that they view Israel as responsible for the assassination attempt, claiming that it sought to derail the reconciliation agreement reached between Hamas and Fatah.

Khalil al-Hayya, deputy to Hamas leader in Gaza Yahya Sanwar, pointed an accusing finger at Israel and its collaborators.

"This is an attempt to influence the internal Palestinian reconciliation," he claimed.

Haniyeh called on Palestinian Authority President Mahmoud Abbas and the Fatah party to move forward in the process of Palestinian reconciliation, and asked PA Prime Minister Rami Hamdallah to do everything in his power to expose those responsible for the attack and bring them to justice.

Abu Naim was lightly wounded Friday afternoon after an explosive device planted on his car detonated as he left Friday prayers in a mosque in Nuseirat Camp.