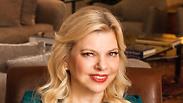 Sara Netanyahu
Photo: Alex Lipkin
Another PMR employee sues PM's wife for alleged abuse
24-year-old Haredi woman becomes latest former PM's Residence employee to file suit against Sara Netanyahu for abusive behavior; plaintiff details alleged routine, including screaming, intimidation and a cleanliness call led by PM's son, Yair; 'We've heard complaints against Mrs. Netanyahu's abusive treatment, but this case breaks all the records,' states plaintiff's attorney.
SR, a 24-year-old Haredi woman who had been employed as a cleaner at the Prime Minister's Residence for one month until October 1 filed a civil lawsuit against Prime Minister Benjamin Netanyahu's wife, Sara, on Thursday, claiming she was subjected to abuse by Mrs. Netanyahu while on the job.

The plaintiff describes, as first reported in Yedioth Ahronoth Friday, incidents that took place as recently as a few weeks ago, shortly after the Jerusalem Labor Court partially ruled in favor of Meni Naftali, a former head housekeeper at the Prime Minister's Residence in his lawsuit decrying the treatment to which he was subjected by Mrs. Netanyahu, and was awarded damages of NIS 170,000.

Also in February, Jerusalem's labor court awarded Guy Eliyahu $30,000 in damages for suffering abuse at the hands of the prime minister's wife, who was said to have behaved abusively toward him, yelling and making unreasonable demands.



The current complainant is a married woman and mother of three, who began her employment on the second floor of the Prime Minister's Residence on August 27 this year but ceased to work a month later.

In total, the former employee filed a claim for NIS 225,000 against Mrs. Netanyahu in which she details how she was abused, humiliated, disparaged, experienced cruel behavior and was almost assaulted by Mrs. Netanyahu.

The prosecution emphasized that the plaintiff is an ultra-Orthodox woman who has no television, radio or computer in her home and therefore did not know of the previous lawsuits aginast Mrs. Netanyahu.

The plaintiff alleges that Mrs. Netanyahu preferred that "her slaves," in the words of the prosecution, be women from the ultra-Orthodox community because she believed that they were introverted and not prone to complaining or gossiping.
The initial interview
According to the prosecution, the application process included a series of intelligence tests, a psychological interview, a security interview and a polygraph test, afterwhich which the plaintiff was summoned to an interview with Mrs. Netanyahu.
"Mrs. Netanyahu asked the plaintiff to refrain from going on vacation during her employment, to refrain from taking sick days even if she were to become ill, and she particular stressed that the plaintiff were to refrain from missing work due to her children falling ill.
"Netanyahu further stated that she is a stressed and busy woman, which is why she is looking for quick and fast-pace employees, or as she put it: 'I don't like it when people walk, I like it when they run,' while adding that this was why 'I don't hire fat employees.'"
"At the end of the interview, Mrs. Netanyahu stated that SR would work with another employee (NK) and prohibited (SR—ed) from speaking to (NK), adding that if she did not follow instructions she would be sinning against the Lord."
The dress code
The prosecution stated that Mrs. Netanyahu enforced an extremely rigid dress code on her employees, as a way to monitor their functions and perceived sterility. "Mrs. Netanyahu dictated to the plaintiff a list of items she were to bring with her on her first day: six skirts; six-to-eight shirts; six pairs of socks; three head kerchiefs with no tie attached to them; three pairs of shoes (not sports shoes); and a packet of sterile (plastic) bags. SR was required to wrap each item in two sterile plastic bags, and at the end of each day to take them home, wash them (even if they had not been worn) and reseal them in new sterile bags.
In addition, Mrs. Netanyahu allegedly demanded that SR's children do not come in contact with the washed items or sterile bags, and that she refrain from wearing makeup, jewelry or use any creams and beauty products when coming to work.
She also seemingly asked the plaintiff to wear pants while she worked, to allow her to be "quick," but after the plaintiff stressed that it went against her beliefs, Mrs. Netanyahu was forced to compromise on this point.


The prosecution added that that Mrs. Netanyahu set up three secret dress codes to delineate what she believed to be three distinct levels of cleanliness: Code One, for employees with direct contact with Mrs. Netanyahu's and her children's clothes; Code 2, for those who clean the rooms, the upstairs bathrooms and pick up the laundry; and Code 3, for those handling food and drinks and who go down to the first floor.
"Mrs. Netanyahu demanded that her workers coordinate their outfits and not, heaven forbid, clash by wearing different coded uniforms, for fear that they would 'pass infections' from one another," the prosecution stated. "In cases when the uniforms did not match, Mrs. Netanyahu would demand that the workers not speak and keep a two-to-four-meter distance from one another, for fear of infection. One example of this occurred on a morning when Mrs. Netanyahu noticed that the workers were not adhering to the same dress code. She yelled and screamed at the plaintiff to "back up, back up, back up you with the Code 3.
Mrs. Netanyahu's alleged demands also stipulated that each outfit change include all the employee's clothes items. "Every day, SR would change outfits dozens of times, pack each clothing items in two sterile bags, change shoes countless times and wash her hands hundreds of times, until her skin cracked."
No food, drinks or breaks
The lawsuit also alleges that Mrs. Netanyahu refused to allow the plaintiff to use the restrooms on the second floor, so that she had to go to the security post and use their facilities.
The plaintiff claims that she was further denied the option to eat or drink: "After several days when she did not eat a thing, she was instructed by (the employee NK) to hide food in small packages that can be eaten in secret on the job, without Mrs. Netanyahu noticing. It was strictly forbidden to bring drinks to the second floor or to use a perishable cup to drink from the sink. The plaintiff would spend entire work days without drinking a single glass of water. As such, she would finish her work day exhausted, shaking and unable to drive home."
Breaks were similarly prohibited, according to the prosecution. "When the plaintiff could no longer go on and asked to take a short break, Mrs. Netanyahu berated her, saying that her request was excessive and that she was the one suffering the Israel.
"I was just in Argentina suffering for Israel, how dare you ask for breaks," Mrs. Netanyahu supposedly told her.
Cleanliness calls led by Yair Netanyahu
The plaintiff also alleged that Mrs. Netanyahu's eldest son, Yair, would assist his mother in terrorizing the maids. "Yair Netanyahu would conduct cleanliness checks, passing one of his fingers along a high surface after climbing to reach it, (since) it was out of reach for most people, while he would egg his mother on to punish them by saying, 'Mom, come look, they didn't clean here.'"
Fines
According to the prosecution, "Mrs. Netanyahu explained during their (initial) interview that she fines workers for damages that she and only she believes they had caused. During one such occasion, an employee working alongside the plaintiff was required to pay a NIS 1,000 fine after Mrs. Netanyahu claimed she had damaged a pair of shoes costing somewhere around that amount. Several days before she had fled from the Prime Minister's Residence, Mrs. Netanyahu told (the plaintiff) that the she, too, will be required to pay her back in the next coming days, over 'damages' she had caused."
Physical threat
The plaintiff's employment at the Prime Minister's Residence allegedly came to an abrupt end on October 1, following a disagreement with Mrs. Netanyahu over the terms of her employment. "Around the end of September, the plaintiff began to complain about the many work hours that were in contradiction to what their agreement. Mrs. Netanyahu became angry that the plaintiff had dared demand what was agreed upon, and a great deal of tension began to accumulate between them."
On October 1, Mrs. Netanyahu, supposedly enraged because of a pair of shoes she claimed had gone missing, yelled at NK, before turning to SR to shout at her, "Who do you think you are," "You don't understand anything," and "There's nothing in your head.
"After she had finished berating SR, she asked her to swear to the Lord that she had followed the rules and did not disobey her. Mrs. Netanyahu did not relent and started to become enraged and lose control. She approached (SR) while screaming and lifted her hand, as if to strike her. Stunned, SR broke down in tears and told Mrs. Netanyahu, 'What do you want from me, I'm afraid of you, leave me alone, let me be,' while stepping away to avoid her hand.
"Mrs. Netanyahu did not relent, but came closer and closer (until) she could feel her breath. When the two were almost touching, Mrs. Netanyahu raised both her hands to strike the plaintiff. SR took advantage of the opportunity to duck and escape Mrs. Netanyahu's still raised hands. She went down to the first floor sobbing and left the residence. Since then, she has not returned."
SR texted another employee she had worked with at the Prime Minister's Residence three days after her departure. "I feel free but am at times overwhelmed, or like after a traumatic event. I definitely, however, left there with happiness and faith. It's amazing to see such big people with such small lives. The Lord literally sent me there for a month just so I would appreciate my life, my husband and even the fact that my kids mess up the house—living!"
A flood of pleads and intimidations
The plaintiff additionally claimed that after she left the residence, she and her husband were inundated with a series of pleads and threats. "A representative of the cleaning company through which she was hired implored her to send a false letter claiming she had left the Prime Minister's Residence due to the many work hours. She flat-out refused. (…) A few days later, Mrs. Falloch (the Prime Minister's advisor on Haredi matters) contacted the plaintiff and asked to know details from her life, such as, 'Who'se your rabbi,' 'What congregation do you belong to,' 'At what synagogue does your husband pray' and so on. The plaintiff told Mrs. Falloch she has no intention of answering her."
Moreover, "The plaintiff's husband was shocked when Mr. Azulay (Effi Azulay, the Prime Minister's Residence current head housekeeper) contacted him several days before (the holiday of) Simchat Torah and threatened him in no uncertain terms." Azulay allegedly warned her husband that "if she chooses to complain against Mrs. Netanyahu, she will end up like Meni Naftali, 'thrown out into the streets,' without a place of work,' and 'barely making NIS 3,000 a month.'
"Over the past few years, we've heard stories and complaints against Mrs. Netanyahu's abusive treatment of workers at the Prime Minister's Residence, but this case breaks all previous records," SR's Attorney, Oren Gross, told Yedioth Ahronoth. "If we don't stop this, it won't be long before another worker will fall victim to her wrongful behavior."
Netanyahu confidants: 'Lies and extortion'
Sources close to Mrs. Netanyahu issued a statement on Thursday, rejecting the plaintiff's claims. "This isn't a real lawsuit. It's an extortion attempt by an employee who was hired for a few days, for which she is trying to extort NIS 225,000. Once again, we have a false claim, full of lies, copied and recycled. Once again, the usual and easy method of gaining publicity and money is used to slander Mrs. Netanyahu and the Netanyahu family. There's no end to the persecution, no end to the lies and no end to the character assassination.
"There are, of course, powerful entities behind this lawsuit. It's unsurprising that the person representing her is the same Naomi Landau, a public prosecution lawyer who is funded by the New Israel Fund, which has turned persecuting Sara Netanyahu into a profession."
'I went into the PM's Residence happy and came out a wreck'
SR, for her part, says that she has found it difficult to move on from her experience working for Mrs. Netanyahu.
"I never thought I would be subjected to a series if abuses like the kind I went through in the Prime Minister's Residence at the hands of Mrs. Sara Netanyahu," she told Yedioth Ahronoth on Thursday. "I went into the Prime Minister's Residence a happy, smiling, healthy woman, whose only goal was to make an honest living and provide for my family. I came out a wreck: depressed, sad, lacking energy, barely functioning, suffering from anxiety and nightmares that continue to visit me every night.
"I keep trying to understand why this happened to me, why I was treated like a slave" she continued. "All I did was go to work. As a little girl, as an adult woman, I was never yelled at, and no one ever tried to do harm me. I was loved, and then suddenly I find myself at the Prime Minister's Residence, which is supposed to be the most dignified place on earth: to work there and receive such violent, hurtful and abusive treatment from Mrs. Netanyahu was and still is a total shock to me."