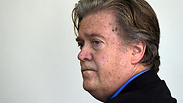 Bannon tells Arab paper: Turkey is more dangerous than Iran
In interview with Saudi-owned Asharq Al-Awsat, former top Trump advisor Steven Bannon argues next world war would be against Qatar, asserts Turkey is the greatest threat the US faces: 'It's definitely not as dangerous as its neighbor Iran, it's far more dangerous.'
Steve Bannon, who until recently was one of US President Donald Trump's top advisors, has asserted Qatar is more dangerous than North Korea while Turkey is more dangerous than Iran in a rare interview with the Saudi-owned Asharq Al-Awsat published on Saturday.

"In my opinion, Turkey is the greatest danger threatening the United States," Bannon told the London-based paper during a recent interview in Los Angeles. "It's definitely not as dangerous as its neighbor Iran, it's far more dangerous."

Bannon argued that "We're not entirely aware of the events happening in Turkey under the shadowy regime of President Recep Tayyip Erdoğan. I dedicate most of my time and attention to this issue."

Bannon claimed the next world war would be against Qatar, crediting Trump for the Arab boycott against Doha.

"The boycott began shortly after Trump's visit to Saudi Arabia, in a very smooth manner," he said.

Trump, according to Bannon, very publicly supported Saudi Arabia's position in the crisis and has recently expressed willingness to serve as a mediator between Qatar and the countries boycotting it—Saudi Arabia, United Arab Emirates, Bahrain, and Egypt—in an effort to resolve the dispute.

"Qatar is no less dangerous than North Korea! People should pay attention to this very important situation," Bannon noted, referring to accusations that Qatar provides aid and support to extremist organizations, including terror groups.