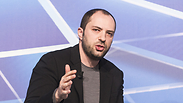 Jan Koum
Photo: Shutterstock
Jan Koum, founder of the popular messaging application WhatsApp, shared a link to the Israeli anthem "Hatikva" on Facebook on Saturday, protesting the fact that Israeli judokas who participated in the Abu Dhabi Grand Slam 2017 judo tournament were prohibited from sporting any of the country's insignia, hoist the Israeli flag or play the anthem in celebration of a win.

"Since they refuse to raise Israeli flag or play Israeli anthem at the Abu Dhabi Grand Slam judo tournament, I am just going to leave this here," Koum wrote on Facebook, adding a link to a YouTube video playing the national anthem.

This is not unusual for Koum, whose Facebook page is full of pro-Israel posts. In fact, the post that appears under the Anthem of Hatikvah is a share of Conan O'Brien's show filmed in Israel.

Koum is a Ukrainian-born Jew who moved to the United States in his youth. In 2009 he founded the popular messaging app and even gave it its name.

WhatsApp was sold in 2014 to Facebook for $ 19.3 billion.