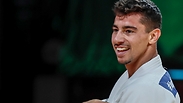 With its symbols banned, Israel wins gold at judo tournament
Despite being disallowed from sporting any of the country's insignia, Israeli Judokas nab gold, bronze medals in first day of the Abu Dhabi Grand Slam 2017 judo tournament; Gold medalist Tal Flicker is seen mouthing the words of the Israeli anthem on podium, as IJF anthem is played.
Winning first place at the Abu Dhabi Grand Slam 2017 judo tournament, half-lightweight Judoka Tal Flicker stepped up to the podium to receive the gold medal wearing no Israeli insignia on his clothes—and with the Israeli national anthem "Hatikvah" prohibited from being played, Flicker mouthed the song's lyrics to the sounds of the International Judo Federation (IJF) anthem.

Flicker, 25, a World Championship bronze medalist, won the gold medal after defeating Azerbaijani judoka Nijat Shikhalizada in the under-66kg men's division. As per the instructions of the tournament's organizers, the Israeli flag was not hoisted—instead being replaced by the IJF flag.

Another Half Lightweight Israeli judoka, 26-year-old Gili Cohen, won the bronze medal in the under-52kg women's division after overcoming a third-place battle over Portuguese judoka Joana Ramos.

Any mention or insignia of the State of Israel was absent from her medal ceremony as well, as per the organizers' instructions.

It is the second time an Abu Dhabi judo tournament did not allow Israeli athletes to display their national symbols, with the first incident taking place two years ago.

As opposed to the previous tournament , when each member of the Israeli delegation published pictures of himself on social media, the Israelis were asked this time to keep a low profile. So far they have obeyed the directive and have not uploaded any images to their social media accounts.

A delegation of 12 athletes is attending the prominent tournament, held October 26–28. Among the Israelis participating in the contest are Rio Olympics bronze medalist Ori Sasson and reigning European champion Sagi Muki, both of whom won first place in their respective weight divisions at the Tashkent Judo Grand Prix 2017.