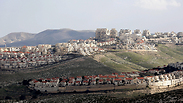 Report: Saudi pressure led to US thwarting Greater Jerusalem Bill
The US's decision to lean on Israel over the Jerusalem expansion bill, that it said would be tantamount to annexation of settlements in the West Bank, came at the behest of Saudi pressure, according to Al-Watan newspaper; US claimed it stepped in to stop any measures that could frustrate peace efforts.
The US decision to tell Israel to refrain from pushing ahead with the Jerusalem expansion bill was reportedly the result of Saudi pressure, according to Saudi newspaper Al-Watan.

The newspaper quoted a senior White House official who said Saudi diplomats demanded in talks with their American counterparts that breaks be slammed on the advancement of legislation seeking to connect a number of settlements in the West Bank to Jerusalem.

The White House official noted the Saudi objections were in line with those of Washington, which subsequently pressured Israel to halt the legislative process.

The US official also reportedly added that President Trump's son-in-law and special Middle East Advisor Jared Kushner met, together with Deputy national security Dina Powell and special envoy to the Middle East Jason Greenblatt, with senior Saudi officials to discuss the renewal of peace talks between Israel and the Palestinians.

The American official also added that the Trump administration is opposed to the bill which would impose a de facto annexation over five municipalities in the West Bank and incorporate them into Jerusalem.

According to the official, Washington has the ability to stifle any move it believes could sabotage the renewal of peace talks between Israel and the Palestinians.

The report in the pro-government newspaper appeared several days after the Saudi Foreign Ministry categorically denied rumors that the Crown Prince Mohammad Bin Salman Al Saud had visited Israel in September.

The media report further emphasized Saudi efforts being undertaken for peace talks.

"Efforts for the renewal of peace negotiations, demands from Washington to exert pressure on Israel, putting an emphasis on the legitimacy of the Palestinian state, is a continued commitment of the Arab peace initiative," the report stated.

On Sunday, Prime Minister Benjamin Netanyahu announced a decision to delay the bill after Washington apparently said that it would be tantamount to annexation.

"The Americans turned to us and inquired what the bill was about. As we have been coordinating with them until now, it is worth it (to continue) talking and coordinating with them. We are working to promote and develop the settlement enterprise," sources quoted Netanyahu as saying at a government meeting Sunday.

Also earlier in the week, Washington issued a statement making its position clear on the bill.

"The US is discouraging actions that it believes will unduly distract the principals from focusing on the advancement of peace negotiations. The Jerusalem expansion bill was considered by the administration to be one of those actions," the senior American official said.