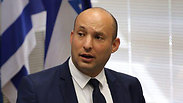 Naftali Bennett
Photo: Motti Kimchi
Cabinet member and Education Minister Naftali Bennett expressed disapproval over a statement made by the IDF following the deaths of 7 terrorists in the detonation of the terror tunnel on Monday—which denied any intention to kill senior militants in the operation—suggesting it was made as an apology for the incident.

"We must not apologize for the successful elimination of terrorists. These were terrorists who were digging a tunnel into Israel that was intended to kill Israeli women and children," tweeted the Bayit Yehudi leader.

"We have no intention of escalating matters," Bennett added, echoing the words of IDF Spokesperson, Brigadier General Ronen Manelis. "As a member of the cabinet, who since Operation Protective Edge has been leading the struggle to thwart the tunnel threat, I give my full backing to the operation.

"The IDF's goal is to defeat the enemy, and this is how we should continue."

Bennett's comment came on the heels of a statement by Manelis, who claimed that the tunnel blast "was not a targeted assassination and there was no intention at any stage to carry out an operation that could have been perceived as a direct attack against any senior militant. The goal was to destroy the tunnel on our side of the territory."

Seven people were killed—among them senior commanders of terror groups—and 11 wounded in an IDF explosion of a recently discovered tunnel located near the border fence which had penetrated into Israeli territory.

Preliminary evaluations, both in Israel and Gaza, deduced that the tunnels were dug by the Palestinian Islamic Jihad (PIJ) militants—the second largest terror movement in the strip after the ruling government of Hamas.

Two of the people killed in the explosion belonged to the military arm of the pro-Iranian PIJ, while a third was a Hamas field commander affiliated with the terror group's elite Nukhba commando unit.

According to a senior military source, a rescue force entered the tunnel to extricate people trapped inside after being wounded in the blast and was hit by a secondary blast likely caused by the igniting of explosive materials inside.

The IDF Spokesperson said that most of the dead in the incident were from the rescue force, killed do to "side effects that occur in such situations in a tunnel, such as falling debris, smoke and dust."

As for the possibility that members of the rescue force were killed by some other means, such as a secondary blast, Manelis clarified that it is possible that they died as a result of something placed inside the tunnel, but stressed that the IDF "did not pump anything into the tunnel and used legal and ordinary means to detonate it."