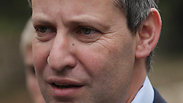 Stas Misezhnikov
Photo: Gil Yohanan
Former Tourism Minister Stas Misezhnikov was sentenced to 15 months in prison and ordered to pay a NIS 70 thousand fine after he pleaded guilty to fraud and breach of trust as part of a plea bargain, admitting to allegations of tender bias and nepotism.

The former minister conceded that he acted in a serious conflict of interest during his term in office, transferring NIS 1 million from Tourism Ministry funds to the Eilat Funjoya Student Festival in 2010, and at the same time recommending that the festival organizers employ Yulie Roth, with whom he had a close and discreet relationship.

According to the indictment, Misezhnikov personally promoted the festival with the support of the Ministry of Tourism and demanded that the Director General of the ministry keep him abreast of progress on the approval of the festival's funding.

The former politician did not disclose his connection to Roth, who was employed by Peles Group (the producer of the festival) following his recommendation as Tourism Minister, and the fact that Roth is supposed to receive money for her work in producing the festival—roughly NIS 100,000 in salary

Misezhnikov, the State Prosecutor's Office announced, took advantage of his senior public position and high standing to arrange lucrative ventures for Roth, and in so doing, committed fraud and an act of breach of trust that harms the general public.

Misezhnikov was initially also charged with bribery, disruption of proceedings and possession and use of an illegal narcotic (cocaine). These charges were retracted of as part of the plea deal.

He was arrested in 2014 as part of a large corruption scandal in which several high ranking members of Defense Minister Avigdor Lieberman's Yisrael Beytenu party were accused of exploiting their government positions in order to funnel large sums of public funds towards their personal interests.

The corruption scandal has so far led to the arrest of more than a dozen high ranking officials, including former Deputy Internal Affairs Minister Faina Kirschenbaum, who was charged with fraud, conflicts of interest, bribery, money laundering and tax evasion, and former treasurer of Binyamin Regional Council Efi Peles who was convicted of breach of trust as part of a plea bargain and sentenced to six months of community service, one year suspended sentence a fine of NIS 10,000.

TPS contributed to this report.