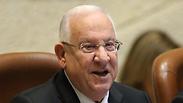 Rivlin. Exceeded his authority and violated his commitment to be neutral
Photo: Motti Kimchi
Rivlin and Likud: The break-up
Op-ed: Op-ed: Likud members believe the president crossed a line in his unprecedented Knesset speech. Senior party members who supported Rivlin's nomination for president were disappointed and even hurt by his words. Most of the people who applauded his speech didn't vote for him, and most of those he blasted in his speech did.
President Reuven Rivlin's speech at the start of the Knesset's winter session was unprecedented in every way. I can't remember a similar speech from any other president exceeding his authority this much and violating his commitment to be neutral.

Despite the remarkable courage demonstrated by the president as he faced off the prime minister, the government and the Likud party, and despite the correct things he said from the bottom of his heart, it must be said that in all fairness, if the same president had said these kinds of things against the Left, against the court or against what parties from the other camp represent, the criticism against him would have been as profound—just from the other side.

Rivlin's politicization was actually facilitated by the opposition, which applauded him twice during the speech, helping Prime Minister Benjamin Netanyahu and Likud ministers argue that it was an opposition leader's speech rather than words befitting a president. Opposition leader Isaac Herzog's speech, as impressive as it may have been, got lost after the president's scathing speech and Netanyahu's derogatory one.

Likud members are talking about a break-up with President Rivlin. Many Likudniks, including Likud activists, believe the president crossed a line in his speech. Senior Likud members who supported Rivlin's nomination for president expressed their disappointment and even pain last week. This is a president who was elected in a very political manner after a very political fight, a senior Likud member told me. Most of the people who applauded him at the Knesset didn't vote for him, and most of those he blasted in his speech did vote for him.

His desire to attack from a president's position, the senior Likud member said, was wrong. He could have spoken about ethics, but this was an attack on the government. The president has a bridging role. He is the only person who is a confidant and isn't subject to the prime minister. He has to be the person the prime minister will feel comfortable to consult. Even Shimon Peres as president didn't allow himself to issue more than one harsh statement, or make one critical comment, the senior member added.

The president's speech sparked a row inside and outside the political system. Some were impressed by his courage, by the clear words and by the fact that the president did what government ministers should have done a long time ago—renounce the prime minister's conduct.

There were also those who called the president all kinds of names and competed over who would criticize him more. When one hears Culture Minister Miri Regev criticize Rivlin's lack of Beitar glory, one doesn't know whether to laugh or cry. What does Regev have to do with Beitar glory? What does Regev have to do with glory in general? And when she compared Rivlin and Moshe Katsav's stateliness and said that the former president (and convicted rapist) was treated unfairly, even the most ardent Likudnik probably wanted to move to a different team.

But Regev is Likud's display window. She was put there by the husband of her good friend, Sara Netanyahu. Just like he put Coalition Chairman David Bitan, who boasts that he hasn't read a single book in the past 10 years, which likely includes the writings of Ze'ev Jabotinsky.

This was evident last week during Netanyahu's birthday celebration at the Prime Minister's Office. Netanyahu wasn't congratulated by people who volunteered to congratulate him, but by those who were asked to congratulate him. Netanyahu's associates approached them and asked them to speak.

This can teach us something about the balance of power around the prime minister. He wasn't congratulated by Ministers Gilad Erdan, Yuval Steinitz or Yisrael Katz (who didn't even attend the event). He was congratulated by Ministers Miri Regev, Yariv Levin and Ze'ev Elkin, and by Knesset Members David Bitan and Yoav Kisch. Netanyahu's congratulators are the "new Turks," the generation that came after what was supposed to be "the successors' generation": these include Katz, Erdan, Gideon Sa'ar, Silvan Shalom, Moshe Kahlon, Moshe Ya'alon—all the people Netanyahu saw as a threat and made sure to get rid of or keep away from his surroundings.

The prime minister is building his power today on his cooperation with the young ministers: Regev and Levin, who are the closest ones to him; Elkin, who has recently been slightly pushed away; and Coalition Chairman Bitan. These are the people he isn't afraid of.

Netanyahu's 68th birthday party will likely be remembered thanks to Yair Netanyahu's promise that he would never go into politics. There's no reason not to believe him. He enjoys making an impact, but he already realizes that it's a very brutal system. And everything that has been written and said about him is nothing compared to what will happen the day he decides to join.

We shouldn't turn it into a "read my lips" kind of promise, though: the hands that enthusiastically applauded him—his mother's hands—will be the same hands that will push him in.