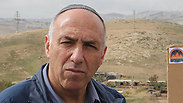 MK Moti Yogev
Photo: Gil Yohanan
MK Yogev threatens to break with coalition over West Bank security budget
MK Yogev joins fellow parliamentarian Oren Hazan in threatening to cease voting with coalition if budget is not allocated to West Bank security measures and bypass roads as early as next week; Samaria Regional Council, protesting in tent outside Prime Minister's Residence, warns protest will escalate if matter is not dealt with.
MK Moti Yogev (Bayit Yehudi) visited theSamaria Regionl Council's protest tent erected opposite the Prime Minister's Residence Monday and announced he will refrain from voting with the coalition starting next week and until a solution is found to the issue of funding West Bank bypass roads and other security measures.

Yogev's announcement came following a similar message from MK Oren Hazan (Likud), who also said he would not be voting with the coalition until an immediate solution is found.

During Yogev's visit to the tent, where heads of local authorities and bereaved families of victims of terrorism have set camp, he said, "If the budget for bypass roads and security measures isn't passed this coming Sunday in the ministerial cabinet, I will refrain from voting."

One day after the start of the protest, Prime Minister Benjamin Netanyahu announced he will be transferring NIS 800 million for security infrastructures in the West Bank, to be included in the coming budget, but the protest marched on.

The protest's leaders and supporters, however, deem Netanyahu's decision insufficient and demand he—and the cabinet—bring a budget to a debate and a vote as early as next week. To finance the measures demanded by the protest, the government will need to spend upwards of NIS one billion.

MK Yogev visited the protest tent after 10 ministers have already done so, including five cabinet members, as well as Knesset Speaker Yuli-Yoel Edelstein, deputy ministers and other MKs. A demonstration was held near the Residence Sunday attended by some 2,000 people.

Yogev explained his threat to abstain from voting by saying, "A coalition is not about a unilateral demand by the coalition chairman or anyone else to just vote with them. It's also about meeting the demands we consider critical. The next step is for things to be given real form—to be budgeted officially, from planning to implementation.

"Moti chairs the Subcommittee on West Bank Affairs at the Knesset's Foreign Affairs and Defense Committee so few people can understand how we feel better, or how much we've been given the runaround, repeatedl and for years, not just on West Bank construction but even on security issues," said head of the Samaria Regional Council Yossi Dagan, who has been leading the protest.

"We were happy to hear sums have been promised every so often, three billion at one time and 800 million on another, but we're waiting on a real solution: a decision accompanied by a budgetary article. Not the same empty promises we've been getting for three years now. And if that doesn't happen, we—along with our Knesset allies—intend to expand and escalate the struggle," Dagan threatened.