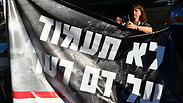 Protest tent
Photo: Rafi Kotch
Settlers pitch protest tent outside PM's Residence
Members of families who have lost relatives to terror attacks in West Bank decry government's failure to fulfil promises to allocate budget intended to boost security in area; 'How many more people need to die?' asks protester; 'people on the Left are not the only sourpusses.'
Leaders of settler movements and members of families whose relatives have been murdered in terror attacks in the West Bank erected Tuesday a giant tent outside the Prime Minister's Residence to protest against what they claim is Prime Minister Benjamin Netanyahu's persistent failure to deliver on promises to boost their security.

Among the myriad grievances that were voiced, the demonstrators said that two years ago they were promised NIS 300 million would be allocated to beef up security arrangements in the West Bank, but that the money was never transferred to the relevant bodies.

Specifically, they cited the planned paving of what they consider a life-saving road in the area which Netanyahu sanctioned, but bemoaned his failure to make good on the promise.

Hadas Mizrahi, the widow of Baruch Mizrachi who was murdered in a shooting terror attack in Kiryat Arba, was one of the people present at the protest.

"I am asking you to look me in the eye, to look my children in the eye," Mizrahi said, directing her comments at Netanyahu.

"How many more need to be murdered in Judea and Samaria? We can't do it anymore. My children and I will sit here on the sidewalk until a solution is found. We are not prepared to let another family be harmed like us. Prime minister, you made a promise. Please fulfil it."

Ayala Shapira, who sustained serious burns on her entire body after a Molotov Cocktail was hurled at a car when she was a girl, also showed up at the tent.

Moshe Har-Melech, whose son Shuli was slain in a shooting attack in the northern West Bank, also joined the demonstration, along with many other members of bereaved families who had been struck by terror attacks.

Boaz Shabo, whose wife and children were massacred in a terror attack in Itamar in 2002, highlighted what he believed to be an unequal response by the government to terror attacks depending on where they occur.

"If there was an incident in north Tel Aviv, the whole government would jump to their help," Shavu said.

"We need to wait until another family is bereaved so you can come and console us and promise us another road. This has to be stopped now and you have make good on what you promised," he exclaimed.

The demonstrators were joined by head of the Samaria Regional Council Yossi Dagan and the head of the Kiryat Arba Regional Council Malachi Levinger.

Dagan also expressed his dissatisfaction with the government's response to the lax security in the region.

"This government is finding it difficult to fulfill its purpose and finance the security needs for the road and for the communities as it promised time and again," Dagan complained.

"Prime minister, you think it is only those on the Left who are sourpusses," he said in reference to Netanyahu's opening remarks in the Knesset Monday. "I regret to tell you that there is another half a million sourpusses in Judea and Samaria. We are residents who don't receive the basic rights of security."

Similarly, Levinger slammed the contempt the government has shown for the Israeli residents of the West Bank.

"We have already met a number of times with the prime minister about these issues and every time he fobs us off and there are more and more delays," he said.