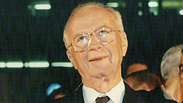 Slain PM Rabin
Photo: Michael Kremer
Memorial rally takes place Tel Aviv for 22nd anniversary of Rabin assassination
Memorial is in its 17th consecutive year, featuring speech by former Mossad chief Yatom, musical performances by Dorit Reuveni, Hanan Yovel, Nadav Guedj; state ceremony Wednesday at noon, with memorial ceremony at 3 pm and special Knesset session at 5 pm.
Hundreds of people participated Tuesday evening in the memorial ceremony for slain Prime Minister Yitzhak Rabin on the 22nd anniversary of his assassination.

The event, titled "Remembering in Song—from HaReut Song to Shir LaShalom", originated with an initiative by Army Radio and the Menashe Regional Council in the Gan Shmuel kibbutz and was held for the 17th consecutive year.




Among those participating in the event were former Mossad chief Danny Yatom, who also gave a speech, Army Radio Commander Shimon Elkabetz and Head of the Menashe Regional Council Ilan Sade.

The evening was accompanied by songs from Dorit Reuveni, Hanan Yovel and Uri Harpaz, Nadav Guedj, Nofar Salman, Shai Hambar and Libi Panker. Also performing were the girls of the Menashe Regional Council's Yasmin troupe along with Kafr Qara's "Al-Nahada" group.

The memorial event for Rabin was inaugurated with the Reut ("Camaraderie") song, one of the late prime minister's favorite songs. The ceremony was concluded with the singing of the Israeli national anthem, preceding by Shir LaShalom, or "A song to peace", the last song sung by Rabin mere minutes before he was murdered.

The event was hosted by Sergeant Tom Nesher and edited by Army Radio's Yoram Rotem.

The state ceremony marking the beginning of the Yitzhak Rabin Memorial Day will take place Wednesday at 12 pm at the President's Residence in Jerusalem. At 3 pm, the state memorial ceremony for Yitzhak and Leah Rabin will take place in the capital's Mount Herzl, with a special Knesset session taking place at 5 pm in the slain prime minister's memory.
The murder
On Saturday night, November 4, 1995, Tel Aviv's Kings of Israel Square hosted a mass rally under the banner of "Yes to Peace, No to Violence."

The rally, attended by Labor Party leaders, peace activists and a number of artists, was organized in the attempt to drum up public support for the peace process led by Prime Minister Rabin at the time.

Shortly after the rally, Rabin went down the back stairwell of the Tel Aviv-Jaffa municipality building flanked by his security detail and stepped towards his car.

Yigal Amir, a young Jewish man waiting nearby, came up to the prime minister and shot him in the back three times with a handgun.

The prime minister was mortally wounded and quickly taken to Ichilov Hospital.

Head of Rabin's security detail Yoram Rubin was also wounded in the assassination.

Amir, then a 27-year-old student at Bar-Ilan University and far-right activist, was apprehended and immediately taken into custody.