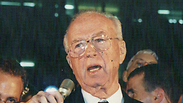 Yitzhak Rabin
Photo: Michael Kramer
Politicians not invited to Rabin Square memorial
As Israel marks 22 years since assassination of former prime minister and architect of lighting 6-Day War victory Yitzhak Rabin, state ceremonies to be held in Jerusalem, while rallies in Rabin Square set to focus on 'sincere concern for Israeli society.'
Israel is preparing to hold state and non-state ceremonies Wednesday to mark the 22nd anniversary since the assassination of Israel's former prime minister Yitzhak Rabin, with the main memorial events taking place in Jerusalem and Tel Aviv.

Kicking off the national memorials will be the official 'Ner Yizthak' ceremony in Jerusalem, which will begin at 12pm at the President's Residence.

The ceremony will be attended by President Reuven Rivlin and his wife Nechama, along with leader of the opposition Isaac Herzog, Deputy Knesset Speaker Hilik Bar, Supreme Court Judge Anat Baron, Chief Rabbi David Lau, members of the Rabin family, other MKs, and students.

At 3pm, state leaders will lay a wreath at the graves of Rabin and his wife Leah at the Great Leaders of the Nation's Plot on Mount Herzl. The wreath-laying ceremony will be attended by Prime Minister Benjamin Netanyahu, Hilik Bar—who is stepping in for Yuli Edelstein who is currently on a state visit to Cyprus—and for the first time, the newly appointed Supreme Court Justice Esther Hayut.

Also present will be the IDF Chief Rabbi Brig. Gen. Eyal Karim, who will recite a psalm, the Head Cantor of the IDF Shai Abramson, who will sing the traditional El Malei Rachamim prayer, usually recited at the graveside during the burial service and memorial services. The former prime minister's son, Yuval Rabin, will also recite the Kadish prayer.

Speeches will also be delivered during the memorials, both by Netanyahu and Rivlin, while youth groups will recite memorial verses and the well-known Israeli singer Roni Dalumi will perform.

At 5pm, the Knesset will convene for a special session to remember Rabin, where a minute's silence will also be observed. Netanyahu, Rivlin, Herzog and Bar will address the plenum.

Following the event, Netanyahu will depart for a five-day visit to London to attend a ceremony marking 100 years since the Balfour Declaration, where he will meet with the UK's Prime Minister Theresa May and Foreign Secretary Boris Johnson.

Some 3,000 people participated in a ceremony to remember Rabin at Gan HaEm public garden in Haifa on Tuesday evening. Attendees were split into discussion groups of 15-20 people according to age.

On Sunday, a mobile exhibition was launched in the northern city by members of educators' kibbutzim of the Dror Israel movement, which was displayed this year for the tenth time, showcasing the different chapters of Rabin's life, featuring videos and news clippings prior to his murder.

Moreover, a number of other memorial activities were held this week in Haifa, which also saw discussion groups and educational sessions for different youth movements.
The main event in Tel Aviv
The main annual gathering however will take place at Rabin Square in Tel Aviv, where Rabin was murdered.

Commanders for Israel's Security, a group of former IDF commanders who aim to create peace with Palestinians based on "two states for two peoples," and Darkenu (Our Way), who describe themselves as "the moderate majority" in Israel, will host the rally, which commences at 7:30pm.

Free transportation from 59 locations across the country have been organized.

Members of the movements decided to hold the rally in the absence of political parties and did not invite serving politicians to address the crowds.

This year, the movements said, the rally would focus on leadership, national unity and recalling the Zionist vision for the generations, against a background of "a sincere concern for the harmful processes that are being endured by Israeli society."