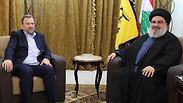 Al-Arouri and Nasrallah meet in Beirut
Hezbollah leader meets with Hamas deputy leader
Hassan Nasrallah and Saleh al-Arouri meet in Beirut to discuss 'the Zionist aggression against Gaza and its ramifications' following the tunnel explosion; this was likely Nasrallah's first meeting with a Hamas official since ties were cut in 2011 over the Syrian civil war.
Hezbollah leader Hassan Nasrallah met with deputy Hamas leader Saleh al-Arouri in Beirut on Tuesday, Hezbollah's Al Manar TV station reported on Wednesday.

According to Al Manar, the two discussed "the Zionist aggression against Gaza and its ramifications" after the IDF blew up a terror tunnel on the Gaza border crossing into Israeli territory, which dug by Islamic Jihad, earlier this week.

Nasrallah offered his condolences to al-Arouri, who lives in Beirut after having been expelled from Turkey and Qatar, for the death of the terrorists who were in the tunnel when the IDF blew it up.

The Hezbollah secretary-general also offered his condolences to Islamic Jihad leader Ramadan Shalah in a phone call on Tuesday.

Al-Arouri, responsible for Hamas's terror attacks in the West Bank, played a major role in the reconciliation between Hamas and Fatah.

He also leads the pro-Iranian faction inside Hamas, seeking to restore relations with Tehran at any cost after years of strained ties under Hamas's former political bureau chief Khaled Mashal.

Mashal preferred the support of the moderate Sunni axis of Saudi Arabia and Egypt, while al-Arouri and Hamas leader Ismail Haniyeh are trying to gain favor with both the Sunni axis and the Shiite axis of Iran, Hezbollah and Syria.

To that end, al-Arouri has led two Hamas delegations to Tehran in the past three months.

His meeting with Nasrallah this week is likely the first since Hamas and Hezbollah cut ties in 2011, when the Syrian civil war began, over Hamas's support of rebel groups fighting to overthrow Syrian President Bashar Assad, who enjoys the support of both Hezbollah and Iran.

Such a meeting would not have happened without a green light from Iran, which likely indicates the warming of ties between Hamas and Tehran.

Meanwhile, Nasrallah's second-in-command Naim Qassem commented on the tunnel explosion in Gaza during an event in Beirut, saying "Israel has the ability to determine when the war would start, but not how it would end. Israel should know that if it decides to start a war, its home front and buildings would be exposed to the missiles of the resistance."