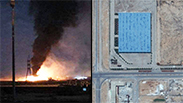 Alleged Israeli attack's target: A Syrian-Iranian industrial area
Analysis: The Hisya industrial is home to joint Iranian-Syrian projects and Iranian companies, with ties to the Iranian government, such as Iranian car manufacturer Saipa. While it's yet unclear whether the attack's target had clear ties to Iran or Hezbollah, the Islamic Republic certainly has a significant presence in the area.
The Hisya industrial area south of the Syrian city of Homs, which was attacked late Wednesday in an airstrike attributed to Israel, has been used over the past decade for joint projects of Iranian government companies and Syrian government and private companies, as part of the trade deals between the two countries, intelligence blog Intellitimes has learned.

According to reports in the Arab world, the target of the attack was a military facility that may have been a rocket depot. Other reports claim the facility was a copper factory. It is yet unclear how the target of the attack is linked—if at all—to Iran or Hezbollah, but the industrial area nevertheless has strong ties to Tehran.

Among other things, the industrial area contains hangars belonging to Iranian car company Saipa, in which the Iranian government owns 48 percent of the stocks.

Saipa and its subsidiaries are controlled by the Industrial Development & Renovation Organization of Iran (IDRO), a government-owned corporation that controls 117 Iranian companies and has been under US sanctions for a long time over its support of Tehran's missile program.

Saipa also owns 80 percent of SIVECO, a corporation owned by the Iranian government and a private Syrian company called Hmisho Trading Group. The Iranian-Syrian company's factory in the Hisya industrial area manufactures an Iranian version of Kia vehicles.

The industrial area contains other Iranian-owned factories manufacturing, among other things, plastic and glass. The glass fibers are used to produce optic fibers and fiberglass, which have different kinds of uses in the military industry, including in the development of aircraft and precision-guided missiles.

The metal factories Iran has in the industrial area could serve as a dual infrastructure to produce armaments and as a convenient cover for the smuggling of metals, engines and electronics for the military industry.