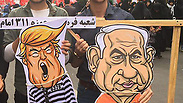 Netanyahu and Trump on the gallows
Iran on Saturday displayed a surface-to-surface missile as part of events marking the anniversary of the 1979 US Embassy takeover and hostage crisis amid uncertainty about its nuclear deal with world powers.

Thousands gathered at the former US embassy in downtown Tehran where a missile, believed to be a 2,000-kilometer (1,243-mile)-range solid-fuel Sejjil, was on display. It was the first time Iran displayed a missile during the annual gathering.

A crowd chanted "Down with the US" and "Death to Israel" during the anniversary celebration. State TV said similar celebrations were being held in other Iranian cities and towns.

Hundreds of Iranian militant students stormed the US Embassy following the 1979 Islamic Revolution that toppled US-backed Shah Mohammad Reza Pahlavi. They took 52 Americans hostage for 444 days after Washington refused to hand over the shah, who was in the US.

President Donald Trump refused to re-certify the 2015 landmark nuclear deal between Iran and world powers in October and the US has imposed more sanctions on Iran over its ballistic missile program.

The US Congress must now make a decision regarding the 2015 nuclear deal, in which Iran agreed to limit its enrichment of uranium in exchange for the lifting of economic sanctions.

Ali Shamkhani, secretary of the country's Supreme National Security Council, addressed the crowd, saying Iran will make any sanctions imposed by the US "ineffective" even as the US targets Iran's economic, nuclear and defensive power.

Shamkhani, alluding to Trump's threats against North Korea, said even US allies know that Trump "has no power to realize his bluffs, against Iran, too." He called the US the "eternal enemy" of Iran.

The former embassy in Tehran is now a cultural center while standing as a symbol of a US defeat for many Iranians. Many Iranians call it the "den of spies."

The US cut its diplomatic relations with Iran following the embassy takeover and has had no diplomatic relations since.