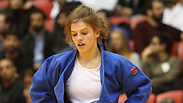 Betina Temelkova
Photo: Oren Aharoni
Gold winning athlete Betina Temelkova, who represented Israel and won medals for the state in multiple Judo tournaments, is expected to be deported from Israel later this month after her visa expires—despite Culture and Sports Minister Miri Regev personally asking Interior Minister Aryeh Deri to grant her citizenship.

Temelkova, 20, who won first place at the Half Lightweight 48–52 kg division of the Tashkent Judo Grand Prix 2017, emigrated from Bulgaria to be with her partner, Israeli Judoka Baruch Shmailov, and has been living in Israel for over two and a half years.

She received an extension of her visa two months ago to participate in the European Championship, where she finished second.


The extension also allowed her to compete in the European Championship, which will take place next week in Montenegro, but it will expire on November 13, the day after she returns to Israel from the tournament.

Later this month Tamelkova is scheduled to take off again with the Israeli national team to a three-week training camp in Japan, but she may have to give that up seeing that she will be staying in Israel illegally by that point.

"Betty has a very difficult problem," said coach of the Israeli women's Judo team, Shani Hershko. "Next week she will be deported from Israel and there is currently no solution. Everyone gave her their words and promises, but at the moment her visa is just expiring."

"Poor thing is under such terrible pressure, it's crazy," Hershko stressed, noting this is happening even though "she brought great achievements to the state and a lot of respect."

"Betina Temelkova and her partner have been scheduled to renew their visas in two weeks' time, at their request, between two consecutive trips," the Population and Immigration Authority said in response.

"In light of the fact that thousands of couples in Israel are making an appointment to extend the foreign spouse's visa, we wonder about their claims, especially when the couple addresses the matter at the last minute.

"Therefore, all speculation about 'deportation' is based on unfounded facts and falsehoods."