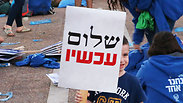 Sign at rally caling for 'Peace now'
Photo: Motti Kimchi
The annual rally in memory of slain Prime Minister Yitzhak Rabin drew tens of thousands of people to Rabin Square in Tel Aviv on Saturday night.
The rally marks 22 years to Rabin's November 4, 1995 murder, perpetrated by Yigal Amir, a national religious Jew.
Unlike previous years, in which flags of the Labor and Meretz parties featured prominently in the audience, the organizers of this year's rally—the Darkenu Movement (formerly V-15) and the movement Commanders for Israel's Security—have decided not to allow any political speeches at the event.
The speakers at the rally represent all sectors of Israeli society under the banner of "Remembering - We are one people."
Commanders for Israel's Security leader Maj. Gen. (res.) Amnon Reshef warned of threats coming from inside Israel.
"In the past, we've known military dangers that threatened our existence, and we withstood them with bravery. Today, Israel is stronger than any military threat. At this time, we are facing different kinds of existential threats—internal ones," he said.
"They come from the dispute over the future of Judea and Samaria. This type of dispute threatens to spark a conflict among brothers. We must deal with this dispute in the only appropriate way for a democratic nation and for Jewish tradition: A polemic argument—yes. Incitement and factionalism—no. A hand raised in violence must be handcuffed without compromises," Reshef stressed.
"We can separate from the Palestinians without compromising our security. We must separate from the Palestinians to keep the State of Israel as the democratic home of the Jewish people," he added.
Darkenu head Col. (res.) Dr. Kobi Richter spoke of the "moderate majority" in Israel.
"The moderate majority is Haredi people who watch in shame as extremists from their sector wildly protest," he began. "The moderate majority is Israeli Arabs who see the radicalization in both nations and have come here to support a discourse of peace and coexistence. The moderate majority is residents from Judea and Samaria who renounce the extremism of the Hilltop Youth. The moderate majority is the Tel Aviv residents who came here this year in particular to shirk off seclusion. The things that unite us are stronger than the things that divide us."
Author Dr. Micah Goodman, a resident of the Kfar Adumim settlement, lamented the fact that while "people from all over the world come to Israel to learn technological creativity, but no one comes here to learn political creativity."
"Perhaps because there isn't too much political creativity here," he noted. "When it comes to dealing with our most burning issues—and primarily with the conflict with the Palestinians—political creativity disappears."
He went on to describe political discourse in Israel, saying it's "not a arena of exchanging ideas, but rather one of exchanging blows. Instead of listening to one another, we only blame each other. So there is no climate that allows the growth of innovative ideas."
"Zionism doesn't belong to the Right, morality doesn't belong to the Left. Values are not exclusive to certain sectors. We're one nation, and they belong to all of us."
Several of the speakers were greeting with booing from the audience, particularly the head of the Efrat Regional Council, Oded Ravivi.
"I am upset because on this spot stood the prime minister of Israel, minutes before he was murdered by a vile person, while seeking to realize the prayer 'He who makes peace in His high places, may He bring peace upon us and upon all Israel,'" Ravivi said.
"I came here today from Efrat, the capital of Gush Etzion, from the heart of the Judean Mountains, where people—men, women and children—also pray at least three times a day for peace and the end of violence. I am also afraid because on my way here I heard voices calling for separation into camps and boycotts," he continued.
"The murder of the prime minister is a terrible crime that we condemn and renounce, and the memory of this act will eternally be in disgrace," Ravivi continued.
"Alongside that we must ask, how do we maintain unity and avoid the separation into camps in a society of people who hold different and varied opinions? There are those who believe unity is the opposite of polarization, but I disagree. Unity does not mean ideological agreement, but actually the ability—even in the heat of argument—to continue meeting, listening and conversing, persuading and being persuaded. If we want to bring peace, we should start by meeting each other halfway. This evening, we need to make a call to stop looking for what separates us and start looking for what unites us," he added.
Other speakers at the rally included former Mossad director Shabtai Shavit, a member of Commanders for Israel's Security; ZAKA organization head Yehuda Meshi Zahav; one of the heads of The Abraham Fund Initiatives, Dr. Thabet Abu Rass; deputy mayor of the Yeruham Local Council Tal Ohana; Tel Aviv Deputy Mayor Mahrata Baruch-Ron; Esther Brot, a resident of the Ofra settlement who was evacuated from her home; Haredi political activist Pnina Pfeuffer; and political-social activist Sagit Peretz Deri.
The rally was hosted by journalist Miki Haimovich and featured performances by singers Moshe Peretz, Yehuda Poliker, Ester Rada, Hadag Nahash, Shiri Maimon, Hanan Ben Ari and Agam Buhbut.
The decision to avoid political affiliation, as well as the decision to allow national-religious figures to speak at the rally has angered many on the left wing.
Left-wing figures claimed the rally should be political in nature and feature only those who belong to the "peace camp." But the organizers decided to make their event more inclusive in an effort to draw people from the right wing, settlers and ultra-Orthodox.
"We believe and hope that for one evening, alongside remembering the murder of Prime Minister Yitzhak Rabin, we will manage, despite our differences, to find what unites us over what divides us," the organizers said in a statement. "We're one people, and we must fight for what's most precious to us—the character, nature, security and future of the State of Israel."
Right-wing coalition members attend rally
Earlier this week, Agriculture Minister Uri Ariel (Bayit Yehudi), a hawkish right-wing politician, said he would attend the rally. "There's an attempt to change the discourse, and I think love is better than unjustified hatred," Ariel told Ynet on Thursday.
Explaining his decision, he said that "Rabin was my prime minister just as he was yours. Whether you're from the left wing or the right wing, he was the prime minister of all of us. That is also how I felt. I knew him personally and met him many times. There were times he helped us, and others times when he got in our way. All was done out of mutual respect. Since he was my prime minister, and he represented a symbol of the kingdom—the Kingdom of Israel and the State of Israel—I plan to be there."
At the rally itself, Ariel said that "the banner of unity is what brought me here this time. I very much hope we are all indeed going to internalize that this terrible murder is worthy condemnation and should be remembered. We remember the murder of Gedaliah 2,000 years ago and fast over it, and it unfortunately happened again. We need to make all efforts together so something like this won't happen again."
Likud MK Yehuda Glick, who was also at the rally, added, "Twenty-two years ago the prime minister of Israel was murdered, and we're here to make sure it won't happen again. We don't have the luxury of allowing haters win. I want to believe we've changed since."
'Don't sweep the divisions in the country under the rug'
Since the main memorial rally is not political in nature, Zionist Union MKs held an alternative memorial event at Rabin's monument on Saturday night.
"A prime minister and defense minister was murdered because he chose the path of peace, and the murderer wanted to stop the peace process," said Avi Gabbay, the leader of the Labor Party, which was Rabin's political home.
"Twenty-two years later, we're committed in the Labor Party and in the Zionist Union to the path of peace and committed to reaching a diplomatic agreement," Gabbay stressed.
Tzipi Livni, who co-leads Zionist Union, added that "The message of reconciliation conveyed by this rally is important. The divisions of 1995 still exist among us, and we shouldn't and don't want to sweep them under the rug. We need to have a different kind of discourse, which shows respect to the other; a discourse that doesn't talk about 'traitors,' because there were no traitors in 1995. The prime minister wasn't a traitor, and there are no traitors among us today either. There are people who think differently to one another, and each seeks the good of the State of Israel in their own way."
Yuval Rabin: 'There's de-legitimization of my father's work'
Yuval Rabin, the late prime minister's son, expressed concerns on Saturday about the way some sectors have been presenting his father's work.
"There is an impression that Yitzhak Rabin woke up every morning thinking only of how to evacuate settlers, how to kill more Jews, how to have more terrorists," the younger Rabin said at a cultural event. "I can't stand idly by as this trend continues."
Following up on his comments at the state memorial service for his father earlier this week, Yuval Rabin claimed there was "a process of de-legitimization, building an infrastructure of rewritten history—'he wasn't a murderer'—and that is not true. I don't want to name names and point fingers, but everyone knows there is a trend here serving the political interests of all sorts of elements."
Rabin noted that Prime Minister Benjamin Netanyahu "as an almost absolute authority in the Likud movement, could stop or definitely moderate this trend... this is exactly what I called on him to do."
He expressed hope Israelis could "work to lower the flames and put an end to the incitement."
Alexandra Lukash and Attila Somfalvi contributed to this story.