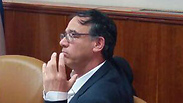 State Attorney Shai Nitzan at the Ministerial Committee for Legislation
Bill seeking to bar police recommendation gets green light
While contentious legislation gets the go-ahead from the ministerial committee for legislation, Justice Minister Shaked stresses wording will be changed before first reading to appease Public Security Minister Erdan, who objects to the bill in its current version.
The Ministerial Committee for Legislation gave the green light on Sunday to a bill proposal to bar police recommendations on indictments.

At the same time, the coalition decided the legislation would only be promoted with the backing of Public Security Minister Gilad Erdan, who expressed his objection to the bill in its current version.

Following the discussing at the ministerial committee, Justice Minister Ayelet Shaked (Bayit Yehudi) said "the bill will be changed in the Knesset with the approval of the justice minister and the public security minister and will return to the ministerial committee before its first reading."

She added the ministers have already reached an understanding the bill would bar police from making their investigation conclusions public, rather than entirely stop investigators from making recommendations.

State Attorney Shai Nitzan, who made an unusual appearance at the ministerial committee, called the legislation "a harmful bill that seeks to silence the police."

"In my view, the police's recommendation is very significant. I want to hear them, they were involved. I don't see any benefit in silencing the police," Nitzan said.

He explained that without the police's recommendations in the case, he would need an additional 100 employees at the State Attorney's Office to go over every aspect of each case before making a decision on it.

Nitzan further stated the police recommend to close about 40 percent of cases, and that often the police recommend filing an indictment but the State Attorney's Office decides to close the case.

Earlier, MK David Amsalem (Likud), who initiated the bill, insisted both this legislation and another one seeking to shield a sitting prime minister from police investigation had nothing to do with Prime Minister Benjamin Netanyahu and the ongoing criminal investigations against him.

"The State of Israel and the citizens of Israel need this legislation. This is a bill that concerns hundreds of thousands of citizens in the State of Israel," Amsalem told Ynet.

"Perhaps you're not used to it, but I take care of the people of Israel. Perhaps this isn't an answer you can accept or believe," he went on to say.

Attila Somfalvi contributed to this story.