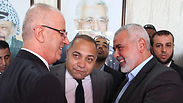 PM Hamdallah and Hamas top man Haniyeh
Photo: AFP
Despite reconciliation, Fatah continues arresting Hamas operatives
Despite recent reconciliation agreement and several good will gestures by Hamas, Fatah seems hesitant to fully commit to deal; Fatah continues arresting Hamas operatives in West Bank, preventing any foothold for rival, hoisted by concerted Israeli efforts to do same; President Abbas yet to remove sanctions levied against Gaza.
Intra-Palestinian reconciliation between the rival Hamas and Fatah movements may be technically be underway in the Gaza Strip—with the Palestinian Authority (PA) assuming civilian control over the strip—but it has not stopped Palestinian security forces from arresting dozens of Hamas operatives, some of them senior officials.

During the month of October, the Palestinian Authority's General Intelligence and Preventive Security arrested more than 50 Hamas operatives in the West Bank. In addition, 130 further operatives belonging to other factions such as the Popular Front for the Liberation of Palestine (PFLP) and the Palestinian Islamic Jihad (PIJ) were also arrested.

The continued policy of arresting dissidents in the West Bank points to the steadfastness of President Mahmoud Abbas's insistence to not allow Hamas to gain a foothold—even the smallest civilian one—in the West Bank, going against Hamas senior officials' hope that the PA would show more leniency following the reconciliation agreement.

Palestinian security forces arrests were carried out concurrently with the regular, nightly search and arrest operations conducted by IDF forces within the PA's territory, effectively blocking Hamas from developing any military or civilian infrastructures in the area.

The Palestinian government resumed control over its Gaza Strip ministries at the beginning of October, with Palestinian Prime Minister Rami Hamdallah entering the strip accompanied by his cabinet of ministers.

Hamdallah was also accompanied by senior Palestinian Security Forces officials, including head of Palestinian General Intelligence Majid Faraj, who even met Hamas's Gaza chief Yahya Sinwar personally.

Their meeting did not stop Faraj, however, from returning to the West Bank and orchestrating a wave of arrests, during which 40 Hamas operatives were picked up within only a week and a half.

Meanwhile, the Gaza Strip showed an inverse trend, with Hamas releasing Fatah operatives arrested months ago due to their political affiliation as a gesture of good will.

It appears the PA continues to maintain aloofness when it comes to the reconciliation, despite Abbas's declarations to the contrary. Hamas, for its part, dismantled its shadow government, handed over civilian control to the Palestinian government, transferred control of the border checkpoint to the PA and dismantled its forward operating bases, used to question passersby and collect taxes.

Despite the aforementioned actions on Hamas's part, Abbas has refrained for the past two months from announcing the removal of sanctions he'd placed on the strip before the current reconciliation effort bore fruit.