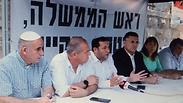 The protest tent outside the Prime Minister's Residence
Photo: Samaria Regional Council
Partial funding offered to disband protest over West Bank security
Local Samaria Regional Council chief allegedly offered, refuses partial funding for single West Bank bypass road—instead of four demanded by bereaved families, council heads—to disband protest; Samaria Regional Council head Dagan: 'Lives are at risk all over West Bank due to gov't inaction, we're united in demand for bypass road funding to prevent next attack.'
Sources behind the protest tent pitched by leaders of the settlement movement claimed a senior political official offered one of the Samaria Regional Council's heads a partial budget in return for dismantling the tent, erected outside the Prime Minister's Residence.

The alleged sum offered would be enough for a single bypass road, whereas families of victims of terrorism and the heads of local councils in the region who have joined them—including Avi Naim, Yossi Dagan and Malachi Levinger—demanded four such roads. The head of the authority in question is said to have declined.

"We will under no circumstances accept a 'divide and conquer' stratagem on security. Lives are at risk all over Judea and Samaria as a result of the government not making good on its promise to budget bypass roads, and we're united in the demand to finally fund them to prevent the next attack," Dagan commented Saturday night.

"There is no struggle more just or moral than the one waged by bereaved families to prevent another family from suffering the same fate. We've had enough promises, and enough spins," he added.

Several days earlier, it should be noted, Prime Minister Benjamin Netanyahu promised the council heads NIS 800 million to budget all four roads.

"The claim is patently false. Prime Minister Netanyahu's only agreement with the Yesha Council was on a security package, whose components will be agreed upon soon," the Prime Minister's Office responded.

The bereaved families participating in the protest intend to escalate their struggle, and started a hunger strike Sunday morning, along with the council chiefs. The decision was made, sources present at the protest tent said, after they were camped out opposite the residence and the only reply they received was reiterating the same promises and press statements of the past three years, without a genuine budgetary source to finance them.

"Prime Minister Netanyahu, after two weeks of sitting opposite your home, you have not deigned to even listen to our grievances regarding the security of the people of Israel and prevention of the next terrorist attack. We regret to inform you, then, that starting Sunday we will be commencing a hunger strike in front of your home," the protesters' letter to Netanyahu read.