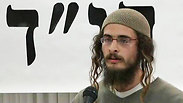 Meir Ettinger, Rabbi Kahane's grandson
Photo: Gal Arbel
At Kahane memorial, grandson slams 'Shin Bet terror organization'
Hundreds of extreme right-wing activists attend rally in commemoration of Rabbi Meir Kahane, who was murdered in New York 27 years ago. 'People are afraid of Kahane because they know he was right,' his grandson, Meir Ettinger, tells the crowd in a rare appearance.
Hundreds of extreme right-wing activists and members of the Kach movement took part in a Jerusalem rally on Tuesday in commemoration of radical right-wing activist Rabbi Meir Kahane, who was murdered after advocating the transfer of Palestinians out of the territories for monetary compensation and annexing those territories as part of an ideology believing in the concept of "a greater Israel."
Kahane's Kach party won one seat in the 1984 Knesset and was subsequently banned from participating in future elections after the Election Law was amended to bar lists that incite racism. He also founded the Jewish Defense League (JDL), which is listed by the FBI as a terrorist group.
Kahane was murdered by El Sayyid Nosair in 1990 after a speech in New York.
The participants of Tuesday's event included members of the Otzma Yehudit far-right political party, attorney Itamar Ben Gvir, former Knesset Member Michael Ben Ari and Bentzi Gopstein, leader of radical anti-assimilation organization Lehava.
The audience included Hilltop Youth members, including Yakir Eshbal, the groom from the "wedding of hate", in which guests danced with guns and knives and stabbed a picture of a murdered Palestinian baby, and Meir Ettinger, Rabbi Kahane's grandson and a main target of the Shin Bet's Jewish Division, who addressed the crowd in a rare appearance.
"Memorials are held after 27 years only for those who still live with us," he said about his grandfather. "People are afraid of Kahane because they know he was right. Two years ago, when I spent time in the Kishon Prison after being arrested by the Shin Bet terror organization, I remember that every time the Shin Bet people heard the word Kahane they went wild, because they're afraid of the truth. Kahane was right because he cared about the people of Israel and he didn't give up. There are people who know the truth but are afraid to say it."
During a film screened as part of the ceremony, the audience applauded at the sight of Baruch Goldstein, who murdered 29 Muslim worshippers at the Cave of the Patriarchs in Hebron in February 1994.
Bentzi Gopstein told the audience, "When I was in custody, I dreamed we were establishing a militia." He described dreaming of "a group of Jews with sidelocks," and "baseball bats, that takes to the streets in search of Hanin Zoabi and her friends from the Joint List and beats the hell out of them. After we're done with them, and they escape bleeding and limping, we deal with the Breaking the Silence organization and chase psychopath (Meretz leader) Zehava Galon.
"We beat up all the traitors, screw the left-wing hooligans, destroy the left-wing terrorists. And (Meretz MK) Ilan Gilon will also get a slap or two. I won't do it myself, of course. I'm busy. I already have plans that day.
"What do you think about this dream? Did you like it? What will (State Attorney) Shai Nitzan and the attorney general have to say about this dream? Is it legal or not?
"Well, let me tell you something. This exact same thing, word for word, with different names of course, was written by Nissan Shor in Haaretz. He wrote it about me, that his dream is to catch me and Lehava activists and beat us up. And (MK Bezalel) Smotrich and the La Familia organization and Ettinger and others. And I filed a complaint with the police, because after all, I'm questioned over much simpler things and sent to two days in detention and house arrest.
"A year later, the response arrives from the Justice Ministry. Mrs. Nurit Litman, the state attorney's deputy. And what does she write? That 'there is no real possibility' that these words will lead to violence against Mr. Gopstein, because he writes that it's a dream.' Well, if you're allowed to dream, so are we! Dream on, gentlemen."
Attorney Itamar Ben Gvir addressed the crowd too. Every year, he attacks politicians and public figures at the rally, and this time he lashed out at MK Ksenia Svetlova of the Zionist Union faction, who had called for the removal of a sign advertising the rally at the entrance to Jerusalem. "Perhaps you should wipe out the lipstick from your friend's car before asking to remove signs of Rabbi Kahane," he said, referring to an incident in which Svetlova was caught on tape vandalizing a fellow lawmaker's car in the Knesset's parking lot.
Ben Gvir went on to attack the New Israel Fund, saying the organization "bribes everyone in Israel."
He did not spare his criticism from right-wing MKs either. "We tell the truth, unlike (Bayit Yehudi leader) Naftali Bennett, who says that 99 percent of the Arabs are loyal," Ben Gvir said, adding that Minister Uri Ariel was "sucking up to the Left."
Tiran Polack, a former Kach activist, said during the rally: "I wish we were a terror organization. I wish we would attack every time a Jew is hurt."