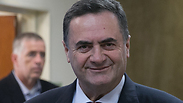 Katz
Photo: Ohad Zwigenberg
Israel to lead UN pressure on Iran and Hezbollah
Intelligence Minister Israel Katz states that Israel will work to increase UN pressure on Iran and its nearby proxy, Hezbollah, by strictly enforcing the 2006 cease-fire agreement that calls on Hezbollah to disarm and stay away from Israel's border; 'Israel has made clear what its red lines are and we will stand by those red lines,' vows Katz.
Israel is planning a diplomatic offensive to step up pressure on Iran and its Lebanese proxy Hezbollah at the United Nations, Intelligence Minister Israel said on Thursday.

Katz told The Associated Press that he believes conditions are ripe to take a stand against Iranian actions in the region, including its support for the Lebanese Shiite militant group.

In particular, he said that Israel wants the world, after years of inaction, to tightly enforce a 2006 cease-fire agreement that called on Hezbollah to disarm and stay away from Israel's border.



Katz believes that the surprising resignation of Lebanon's Prime Minister Saad al-Hariri has created a golden opportunity to strike at Iran and its allies. "The resignation of Lebanon's Prime Minister (Saad—ed) al-Hariri exposes Hezbollah's real face," Katz said. "Iran is taking over Lebanon. Hezbollah is taking over Lebanon."

Israel has closely been watching Iran's involvement in the war in neighboring Syria and is deeply concerned that Iran, along with Hezbollah, will maintain a permanent presence in post-war Syria. It fears that Iran could use Syrian territory to stage attacks on Israel, or create a land corridor from Iran to Lebanon that could allow it to transfer weapons more easily to Hezbollah.

Hezbollah and Israel battled Israel to a stalemate in a monthlong war in 2006 that ended in a UN-brokered cease-fire.

The agreement, UN Security Council Resolution 1701, called for the disarmament of militant groups in Lebanon and an end to arms transfers to them. The only armed forces allowed in southern Lebanon were the Lebanese national army and UN peacekeepers.



The cease-fire, however, has been poorly enforced, and Israel believes Hezbollah has amassed an arsenal of some 150,000 rockets and missiles aimed at Israel, much of it stockpiled near the border.

"We don't need a new resolution. We just need to implement an existing one," said Katz, who will head to the United States later this month to press Israel's case.

"I think al-Hariri's resignation allows Israel to lead a process with the United Nations, with the Security Council, United States, France and other countries and demand to implement Resolution 1701," he said. "That first of all is a process we plan to lead."

Announcing his resignation last Saturday in a pre-recorded speech from Saudi Arabia, al-Hariri accused Iran of meddling in Arab affairs and Hezbollah of holding Lebanon hostage. Hezbollah has members in the Lebanese unity government that al-Hariri formed last year.

Al-Hariri's surprise resignation has thrown Lebanon into turmoil, with many people accusing Saudi Arabia of carrying out a power play aimed at wrecking the unity deal with Hezbollah. On Thursday, al-Hariri's party in Lebanon demanded he return from Saudi Arabia, implying he was being held against his will.

Katz spoke before Thursday's accusations against Saudi Arabia, but discounted the possibility that the kingdom was behind his resignation. "I don't think they forced him to resign. The threat against him in Lebanon is concrete," Katz said.

Israel has long sought better enforcement of the UN cease-fire. But Katz said changing circumstances make the time ripe for diplomatic action.

He cited the strong support for Israel by the new US administration, the international jockeying for influence as the Syrian war moves toward an end and what he called Israel's "shared interests" with Saudi Arabia and other Sunni Arab countries who also feel threatened by Iran.

In a sign of progress for Israel, the Security Council under American pressure renewed the UN peacekeeping force in Lebanon in September with new orders for more patrols and detailed reports on run-ins with Hezbollah.

Israel has largely stayed on the sidelines throughout the six-year Syrian war. But officials have acknowledged carrying out dozens of airstrikes inside Syria against suspected weapons shipments bound for Hezbollah.

Israel has been lobbying both the US and Russia, Syria's strongest ally, for safeguards that Iran and its allies will remain far from its borders in post-war Syria and that sophisticated weapons will not be able to reach Hezbollah.

Katz said Israel prefers diplomatic arrangements, but is ready to use military action if necessary.

"Israel has made clear what its red lines are and we will stand by those red lines," he said.