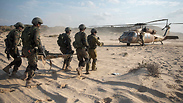 Israel-India joint exercise
Photo: IDF
IDF's Airborne Rescue and Evacuation Unit 669 and its Indian counterpart joined forces in joint search and rescue drills in the Palmachim dunes as part of the larger Blue Flag bi-annual aerial exercise, which started earlier this month and will end on Thursday, Nov. 16.

The Indian counterpart of Unit 669, the Garud Commando Force, is much younger. It was established in 2003, but managed to accumulate considerable operational experience.

The Garud arrived in Israel with minimal equipment, and the weapons for the exercises were supplied to them by Unit 669.



Unit 669 and Garud in joint search & rescue exercise (עורך: בן שכטר, צילום: אבי חי ודובר צה"ל)

Fortunately for them, they were supplied with Israeli-made weapons, which are not unfamiliar to them, as they already routinely use the Tavor bullpup assault rifle, the Negev light machine gun and the old Galil rifle.

After an initial demonstration by the 669 soldiers, where Garud commandos witnessed them practicing hostage rescue, a search and rescue operation took place the next day, simulating the location, treatment and evacuation of a pilot that crashed in enemy territory.

"They learned from us many things, such as escape and survival techniques, reading topographic terrain maps, navigating without tools, observing a village to learn its routine, relying on water sources in enemy territory, and more," said 669's First Lieutenant Tal, one of the commanders of the exercise.

"It opened them to a whole new world," he boasted. "We introduced them to geologists who explained how to find water sources. They were thrilled about the comfort of our equipment, from the light helmet to the size-reduced combat vest."

As in the rest of the Indian army, even in Garud, which belongs to the special forces, the units are professional and recruitment is not mandatory. A soldier enlists for 14 years and an officer for 20 years.

Still, quite a few eyebrows were raised by the soldiers of Unit 669 over the formality within Garud and the distance its commanders kept from their soldiers.

Despite the fact they were far from fresh recruits, the soldiers who stayed in Palmachim rarely displayed closeness to their commanders, and the two groups made sure to drive separately in cars as the clear hierarchical separation between them was maintained at all times.

"Our approach is different because we believe that fighters who are constantly with their commanders in a routine will function better with them on the battlefield," said First Lieutenant Tal.

"We do not have parallel units (to ours—ed) within the IDF, so this is an opportunity for strategic cooperation and exchange of knowledge," Unit 669 deputy commander, Major D., added. "We practice fighting while finding shelter and bringing the injured person to it, with every fighter knowing how to do everything; to treat the injured, to extract, to fight and to breach."