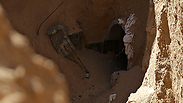 Tunnel exploded by Israel
Photo: EPA
IDF warns Islamic Jihad, Hamas against 'revenge attack'
Fearing revenge attack by Islamic Jihad two weeks after IDF kills its senior commanders and Hamas terrorists in tunnel explosion, Maj. Gen. Yoav Mordechai uploads video promising reprisals; says terror groups 'playing with fire at the expense of the residents;' Islamic Jihad: 'This is a declaration of war.'
Two weeks after Israel blew up an attack tunnel that had penetrated into its territory from Gaza, killing 15 terrorists from Islamic Jihad and Hamas, Israel has promised to respond to any revenge attack with "power and determination."

Warning Islamic Jihad in Arabic that it is "playing with fire" in a video uploaded on Saturday night, Maj. Gen. Yoav (Poli) Mordechai stressed that Israel would respond to any attack against the group itself and Hamas. "We will respond with force against Hamas," Mordechai said.

"Israel exploded a terror tunnel two weeks ago inside its territory under the sovereignty of the State of Israel. We are aware of the Palestinian Islamic Jihad's plot that is being formed against Israel," he said in Arabic.

"It is playing with fire at the expense of the residents of the Gaza Strip, at the expense of the Palestinian reconciliation agreements and the entire region.

"It should be clear: Any response by Islamic Jihad, whatever it may be, will be responded to by Israel with power and determination, not only against Islamic Jihad but also against Hamas. We advise the Islamic Jihad leadership in Damascus to be careful and get things under control," he continued.

"Leaders of Islamic Jihad in Damascus—Ramadan Shalah Ziad Nakhaleh—get your hands around this quickly because you are the ones who will be held responsible."

On Sunday, Islamic Jihad responded to Mordechai's words, describing them as a "declaration of war."

"The threat by the enemy to harm the leadership is a declaration of war and we will deal with them," the organization said in a statement said.

"These threats show the real intentions of the Zionists. The enemy forces are violating the ceasefire that was brokered by Egypt in 2014."

Earlier the same day, a senior Islamic Jihad official in Gaza, Khaled al-Batash, said his terror organization will have no other choice to "punish" Israel for killing its members.

"Israel has killed 12 Palestinians in Gaza and another one in the West (Bank) over the last two weeks … When they kill men of the resistance, and especially from Islamic Jihad, we have no other choice but to punish the occupier, and continue to strengthen the buildup of forces from a conflict," al-Batash said.

Shortly after Israel blew up the tunnel, Hamas warned it constituted a "grave escalation."

Among those killed were senior commanders of terror groups while another 11 were wounded in the explosions.