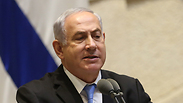 Netanyahu
Photo: Alex Kolomoisky
Netanyahu's Knesset critics accuse him of choosing apartheid in special session
Opposition MKs also chastise PM for ignoring chances for regional cooperation and being distracted in the face of multiple investigations; referring to recently agreed upon truce in Syria, MK Bar-Lev asks Netanyahu, 'How is it possible that the demilitarized zone in the Golan was decided for us?' while Joint List leader Odeh tells him, 'We choose peace, and you choose apartheid.'
A special Knesset session focusing on "the Israeli government's political challenge in light of new opportunities that have been created" took place on Monday, during which Prime Minister Benjamin Netanyahu was lambasted by members of the opposition for allegedly squandering opportunities for regional cooperation.

The session's discussion was initiated by opposition party Meretz, which was joined by the Zionist Union and the Joint List.

MK Michal Rozin (Meretz) opened the session by referring to the current corruption investigations in which Netanyahu is involved. "While Netanyahu spends his days in investigation rooms, historic opportunities have arisen for regional cooperation that could lead to a permanent agreement and to an end to the conflict. The face of the Middle East has changed over the past few years, and in the present reality there is no doubt that continuing the occupation and controlling millions of Palestinians is the biggest threat over the Zionist vision."

Rozin continued by telling Netanyahu to "the ugliness has been made abundantly clear during your time as premier, as you nominate the police commissioner and attorney general with one hand, while undermining their positions with the other, since they are apparently unwilling to join your entourage, currently being investigated by (Police Corruption Unit—ed) 443."

MK Omer Bar Lev (Zionist Union) went up to speak following Rozin. Bar Lev attacked Netanyahu for not making sure Israel was part of the negotiations that led to the recent ceasefire deal in Syria. "Russia, the US and Jordan asked for a ceasefire agreement in Syria, and who wasn't the room? We weren't. And who isn't considered? We aren't. How is it possible that the demilitarized zone in the Golan Heights was decided for us by others? How did it happen that according to the agreement, Iran will be at our doorstep? And you, Bibi, are allowing this to happen under your watch. Again, there are zero achievements. Nada. Nothing at all."

Joint List leader Aiman Odeh stated that "we are at a crossroad where it is clearer than ever that we have only two options: peace or apartheid. I know the occupation will end one day, that it's not a question. The only question is when and how many Palestinian and Israeli victims will have to pay with their lives until then. The responsibility for the blood that will be spilled, with the suffering and mourning, is yours, Prime Minister Benjamin Netanyahu. As if the most important thing is that you time and again refused to take the route of peace, choosing instead to continue the occupation and military control of another people. We choose peace, and you choose apartheid."