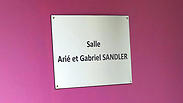 Plaque on the room commemorating the two boys
Photo: AP
PARIS - A conference room at a Paris middle school has been named in honor of two Jewish boys who were shot to death by an Islamic extremist in southern France more than five years ago.

The dedication of the room in memory of Arie and Gabriel Sandler is part of an effort by the Georges Brassens school to fight racism and anti-Semitism in France, which is home to Europe's biggest Muslim and Jewish populations.

The program seeks to make French values and the country's various religions and cultures more familiar to the school's students, many of whom are Muslim with roots in France's former colonies. It includes visits to the Paris Museum of Jewish art and history and the Arab World Institute.

Samuel Sandler, whose grandsons were 3 and 5 years old when they were killed during an attack at a Jewish school in Toulouse, said the naming ceremony was a "very moving" moment.

"Because of the murderer's weapon, they weren't able to go to school anymore," he said, yet "all schoolchildren will remember them."

The program, called "Humanity," has existed for years but it has been reinforced since a series of attacks by Islamic extremists in 2015 amid a peak of both anti-Semitism and anti-Muslim acts in France.

The two teachers who lead the project, Jacqueline Courier-Briere and Nasser Dja Bouabdallah, said their method consists in answering all questions "without taboos" during respectful debates among students who range from 11 to 14 years old.

Among the topics addressed are "Is a Muslim allowed in a Catholic church" and the more complex freedom of speech issues that emerged when satiric newspaper Charlie Hebdo was targeted in a deadly attack. Al-Qaida in the Arabian Peninsula claimed responsibility for the attack, saying it was in revenge for Charlie Hebdo's depictions of the Prophet Muhammad.