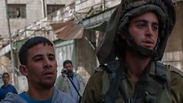 Julani and Issacharoff
Photo: Breaking the Silence
Breaking the Silence claim wrong Palestinian questioned in Issacharoff incident
After State Attorney's Offices closes case against group's spokesman Dean Issacharoff, determining he lied about brutally attacking Palestinian during his army service, Breaking the Silence insists Hassan Julani, who refuted Issacharoff's claims, was not the one assaulted.
Breaking the Silence insisted Saturday night its spokesman Dean Issacharoff brutally beat a Palestinian during his army service, saying the Palestinian who was questioned and refuted Issacharoff's claims was not the one who was assaulted.

"The State Attorney's Office determined Dean Issacharoff was not telling the truth based on the questioning of the wrong Palestinian," the group said.

Breaking the Silence released a video showing a photo of Issacharoff with Hassan Julani, the Palestinian questioned in the investigation, claiming the State Attoney's Office based its decision to question Julani on that photo.

"Issacharoff made it clear immediately upon seeing the photo that this was not the Palestinian from the incident he testified on and was questioned by police over," Breaking the Silence said. "We would like to note that the police did not bother asking Dean if this were the incident in question and certainly did not show him the photo."

The State Attorney's Office decided to close the case against Lt. Dean Issacharoff, determining he lied about the incident during a Breaking the Silence rally. His testimony, in which he described the assault in detail, was filmed and distributed online.

In the video, Issacharoff says he repeatedly kneed a Palestinian detainee in the face and chest—causing him to "bleed and faint"—without any operational justification.

After hearing about Issacharoff's testimony from reservists, Justice Minister Ayelet Shaked had asked Attorney General Avichai Mandelblit to investigate him.

On Friday, Breaking the Silence raised the claim Ruben Silverstone, the company commander's signal operator who said he witnessed the brutal violence he inflicted upon the Palestinian, was not questioned as part of the investigation.

The group claimed these two alleged failures in the investigation indicate that "the conclusion Dean was not speaking the truth was incorrect."

Law enforcement officials, however, rejected the claim the Palestinian who was beaten was not questioned, and noted Issacharoff himself said in his questioning he used only the required amount of force to handcuff the Palestinian.

They further noted the details Issacharoff provided in his investigation were the same as those Julani provided.