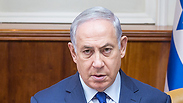 Netanyahu
Photo: Marc Israel Sellem
Netanyahu insists not all criticism of Rivlin is incitement
PM accused of turning his back on Rivlin after failing to condemn pictures redolent of incitement campaign precipitating Yitzhak Rabin's assassination; insists harsh criticism should not be silenced, as long as it is 'topical and to the point, respectful, without a kaffiyah, without nooses and without Nazi uniforms.'
Prime Minister Benjamin Netanyahu rebuffed accusations Monday that the vitriolic criticism being leveled against President Reuven Rivlin over his refusal on Sunday to grant Elor Azaria a pardon necessarily constitutes incitement.

"In a democracy, it is permissible to criticize anyone. Nobody knows that better than me, and not all criticism is incitement," Netanyahu said on Monday, much to the dismay of critics who argue that pictures circulating on social media depicting Rivlin in a kaffiyah and associating him with Palestinian nationalism are tantamount to incitement.

Rivlin came under harsh attack for rejecting a pardon request filed by the former IDF soldier, who was convicted of manslaughter earlier this year and imprisoned for shooting to death a neutralized terrorist in March 2016, saying that to grant him early release would have negative implications for both the army and the state.

After Rivlin was subjected to streams of online abuse, Netanyahu outlined the parameters of legitimate criticism, listing the actions that he said fall afoul of a heated discourse.

"The only request is that the criticism is topical and to the point and respectful without a kaffiyah, without sculptures, without nooses and without Nazi uniforms. That is unacceptable against the president or any other public figure," he said.

Depicting public officials in Nazi uniforms or donning a kaffiyah strikes a particularly sensitive chord in Israel due to similar incitement campaigns against former prime minister Yitzhak Rabin, which precipitated his assassination.

"Regarding criticism that is to the point—it is not only allowed, it is a must. It is the lifeblood of a democracy. We cannot define topical criticism from the Right as incitement and criticism from the Left as always being freedom of speech," he continued.

"We want an equal attitude, respectful, topical, without inciting but as blunt as required. Because that is the basis of a democracy. There is nothing else, and it needs to work in both directions."

Netanyahu further clarified where he stood on the Azaria issue that had whipped up hysteria across the country, stressing that from the outset, he had supported his pardon request.

"I called for the full pardoning of Elor Azaria from the first day. My opinion has not changed," he insisted.

Despite his statements, Netanyahu was also the subject of criticism by opposition leaders for not attempting to mollify the invective surrounding Rivlin's decision.

"Since yesterday, the prime minister didn't find it appropriate to get up and criticize the attacks against the president of the state ... His silence is strange at best and dangerous at worst," said Yesh Atid leader Yair Lapid.

"The photo of President Rivlin wearing a kaffiyah was not created by those who don't remember the photo of (slain PM) Rabin with a kaffiayh, but by those who do remember. (Not condemning it) is akin to giving permission to kill," Lapid continued.